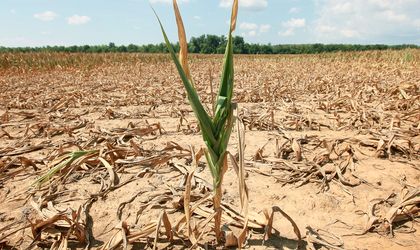 Drought affected this year an area of 1.16 million hectars of agricultural areas, a drop of 10-15 percent compared with 2015, with the most affected ares being corn and sunflower cultures, while the rye, barley and two-rowed barley productions registered a growth of 15 percent in production up to 2.4 million tones, said on Friday the minister of Agriculture, Achim Irimescu.  
Irimescu said that the damages for farmers as a result of the drought can come in two forms: as minimis grants up to EUR 15,000 for three years or aid for SMEs.
"The minimis grants are hard to be applied as there were farmers that benefited previously from them and the amount remained small. Also, we have a slightly more complex method on driving lines for SMEs, but we have to get the approval of the European Commission, only that the things are getting a little complicated because when you ask for approval, you have to come with a very clear justification, such as the effective losses. Our farmers declared in the present between 30 and 100 percent, under 30 percent are not declared. They must have an accounting evidence of the production from the previous years to make a clear comparison," said Irimescu.
According to the agro-meteorological forecast made by the National Administration of Meteorology, between October 8-14, the humidity reserve in the soil (0-20) cm will be in the satisfying limits and close to the optimum in Maramures, Banat, most part of the Transilvania, Muntenia, the south, west and north-west of Moldova.
Georgiana Bendre