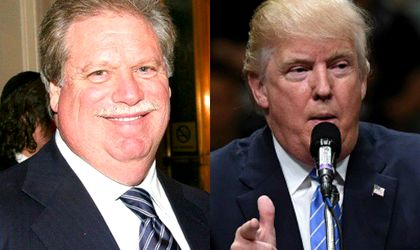 Elliott Broidy, a top fund-raiser for Donald Trump's presidential campaign, allegedly suggested to clients and prospective customers of his defense contracting company, Circinus, that he could broker meetings with Mr Trump and people close to him, after he was elected president, the New York Times reports.
Trump had vowed to "drain the swamp", including various forms of access peddling such as the kind Broidy is accused of doing. After Trump's election, Broidy's business took off as Circinus won lucrative contracts from around the world.
The NYT got hundreds of pages of Broidy's emails, proposals and contracts from an anonymous group, which show that as a vice chairman of the finance committee for Trump's inauguration, he arranged invitations to parties for foreign leaders with whom Circinus worked to sign contracts potentially worth hundreds of millions of dollars.
Among other favours for foreign officials, Broidy arranged an invitation to a party at Mr Trump's Washington hotel for "a Romanian parliamentarian facing corruption charges" – Liviu Dragnea, PSD president and leader of the Chamber of Deputies.
For months after the inauguration party attended by Liviu Dragnea, Circinus continued pitching the Romanian government partly on the access it would provide to Mr Trump, according to a NYT source in Romania.
Circinus has not yet obtained any contracts from Romania, but the company entered into an agreement last month with a Romanian government-owned defense company that "appears to give the inside track for contracts valued at more than USD 200 million".