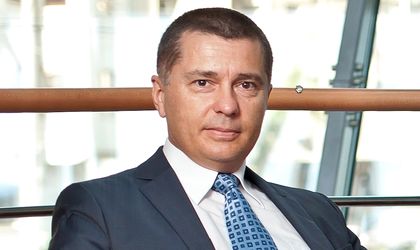 BR met with Dorin Pirciog, director MyBodyGuide Romania, to discuss about the revolutionary new program on the local market, its advantages and its business objectives. He is also the president of The Romanian Association of the Stem Cells Accredited Banks (ARBACS).
Romanita Oprea
What made you decide to bring MyBodyGuide in Romania at this time? When did you first hear about it and how long did it take to bring it on the Romanian market?
MyBodyGuide is a local concept based on recent science advances that I came across about 3 years ago and further developed in the next 2 years that followed. Therefore, it took about 2 years to get the shape we can see today. It is based on a partnership with one of the most prestigious pioneer genetic group of laboratories in Europe and one of the fewest in the world.
Do you believe that the people's attitude and behavior towards their lives and lifestyles is changing? How and why?
There is a continuously growing group of people that understood they had to make changes in their lifestyles in order to perform better and live a healthier, longer life. We are now helping them made those changes, based on recent genetics discoveries, thus providing them with a valuable instrument to optimize their bodies' performance.
How are we as Romanians still different compared to the CEE countries and the Western European ones?
I do not think we are different, only that we have to catch up with them, who started a bit earlier to deal with modern science information and apply it into their lives. It is just a matter of education and we have a lot of work to do in this respect.
What is your target for the product?
The target for the product(s), i.e. genetic testing at My Body Guide, is almost every person, since it helps us optimize our lives, just that we are aware that only some people will understand the idea of prevention in order to apply it into their lives.
What are your expectation for the first year of using it? (number of clients, revenues, etc)
Frankly speaking, although we have set up a plan, it was purely based on our feelings, since this unique and most complex genetic tests for everyday life has no local background to be based on.
How was it perceived so far?
As very interesting and "too good to be true". Although this sounds great, in fact is not so good since it rises a bit of skepticism that further calls for a lot of information process to make people understand the scientific grounds. Nowadays, that information process is quite challenging, given the limited time everyone faces in his/her life. But I am positive this time investment in information will pay off and people will further choose to scientifically invest in their body, thus performing better and healthier. I would like to stress on the investment since it actually saves us a lot of time and money, given the much better choices we will make in life.
What is your competition on the Romanian market and why?
The players on this market are quite a few and only based on nutrition and weight management, although their genetic reports are not as detailed as My Body Guide's. I have to mention there is no local genetic lab performing such complex analyses and their interpretation. All the few players now present on the market have partnerships with genetic labs from abroad.
What does your clinic offer differently and why should people decide to come to you?
As previously mentioned, My Body Guide is the most complex one on the market, having in addition to weight management and genetic personalized nutrition area, a Sport Performance section (mainly for athletes and professionals) and a Medical one, dealing with many common conditions everyone faces during his lifetime, thus allowing every individual to improve his odds and even avoid encounter those conditions through, sometimes minimal, changes in his/her lifestyle. One very important issue – the final reports are in Romanian, with common language sentences, thus available to everyone's understanding. In addition, they contain all the information needed and in such a detail so everyone can the implement the recommendations. Otherwise put, you can make the suggested lifestyle adjustments by yourself, being in full control of your lifestyle. Not the least, we offer permanent specialized support in the whole process of understanding, ordering and counselling, if required.
More about MyBodyGuide
Complex reports about the way our body functions on some directions, alongside with concrete solutions that can be immediately adopted in order to function better and avoid a lot of health problems that we are all predisposed since birth.
 There are 4 directions that the system is taking care of:
the medical one – it regards the predispositions to common problems (ex: cardiovascular illnesses – HTA, osteoporosis, cancer, diabetes), body detox, drugs' efficiency and secondary effects, together with the efficient solutions for reducing the associated risks;
weight control – it responds to: why we are getting fat and what we need to consume, how much we lose weight by doing sports, how powerful is the Yo-Yo effect, how many meals a day to eat and what physical exercises to practice, and so on…
 healthy genetic nutrition – it refers to the way each one of us are interacting in an unique manner with over 900 foods around us and how good to those do to us or not;
sports performance – it refers to the "sports' genes": if someone can make performance in a certain sport and how to organize their diet, micronutrients, recuperation, in order to achieve the performance wanted in that sport.