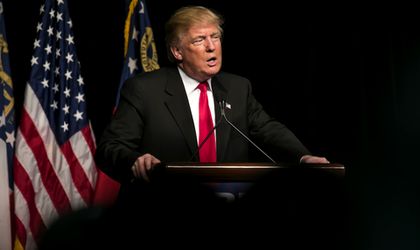 US president Donald Trump has announced he is withdrawing the United States from the nuclear deal with Iran and restoring the sanctions against the Islamic country.
He spoke today ahead of the 12 May deadline, when he was due to either restore or continue suspending sanctions on Iran.
The deal was inked in 2015 and lifted lifted sanctions on Iran after the country accepted to limit its nuclear program and allowed international inspectors into its facilities. "We will be instituting the highest level of economic sanction," Trump announced, quoted by CNBC. "Any nation that helps Iran in its quest for nuclear weapons could also be strongly sanctioned by the United States," he warned.
The US President said he will restore the sanctions, though he did not provide evidence that Iran has violated the terms of the 2015 deal.
The sanctions had crippled Iran's economy and cut its oil exports dramatically. The lifting of the sanctions brought about an economic boom for the country, whose economic exchanges with European Union countries, for instance, added up to USD 25 billion.
Alongside the United States, Iran negotiated the deal with Germany, Russia, the United Kingdom China and France. Given the intensification of economic exchanges these stakeholders, along with the EU, are making efforts to preserve the deal.
The Iranian president Hassan Rouhani  said that his country would enter into negotiations with the European partners to the deal, as well as with Russia and China, but that, if the outcome was unsatisfactory, Iran was ready to turn to "insdustial levels" of uranium enrichment.
Meanwhile, High Representative/Vice President Federica Mogherini said that the EU regretted Trump's statement. However, she also sought to play down the implications of the decision, stating that "the nuclear deal is not a bilateral agreement and it is not in the hands of any single country to terminate it unilaterally".
Mogherini said that the EU would retain its commitment to the agreement for as long as Iran kept to its side of the deal, according to euronews.
In addition, France, the UK and Germany, put out a joint statement also expressing regret about Trump's decision. They emphasised their "continuing commitment" to the deal, stating that, contrary to the comments made by Trump, Iran continued to abide by its terms.