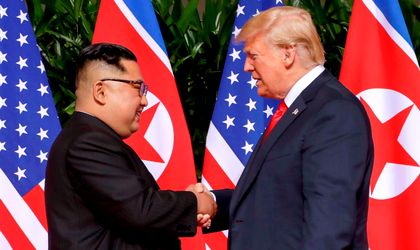 US President Donald Trump and North Korean leader Kim Jong Un have met in Singapore for an unprecedented summit, after a year of exchanging various threats, the BBC reports.
The meeting was held in a luxury hotel in Singapore. After the two leaders shook hands, Trump made some brief comments to the press where he predicted a "terrific relationship" with North Korea.
The leaders' one-to-one meeting lasted around 40 minutes, and later they were joined by advisors for a working lunch focusing on North Korea's controversial nuclear programme. US Secretary of State Mike Pompeo said the US would only accept "complete, verifiable and irreversible denuclearisation" – but would offer "unique" security guarantees.
Analysts are divided on the issue – some say the summit will lead to peace, while others believe that it's just a propaganda tool for Kim Jong Un.