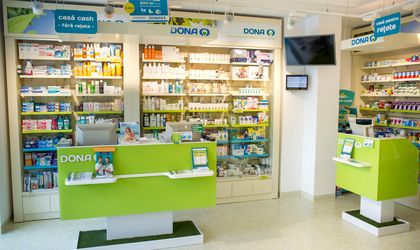 Dona group's investments in distribution activity and network expansion (over 300 units, out of which 16 in franchise) reached EUR 5 million in 2017 and registered a turnover of EUR 230 million. Also it doubled its profit compared with the previous year.
The investments also included the acquisition of licenses and finalization of drugs storage construction.
Eugen Banciu, president of the DONA firms group says: "In the following years, DONA group will continue the accelerated development both in the drugs distribution, as well as in retail , through acquisitions and franchise DONA. We believe there is enough business growth potential and we keep a friendly attitude on the market, we are opened to collaborate with the other distributors if they have pharmacy chains that seem competitive."
For 2018 , the company's  representatives aim an increase by 21.5 percent in the turnover, supported especially by the distribution activity development and the pharmacies network operating under "DONA" umbrella. The investments budget for this year is EUR 4 million.
"For us the key word remains efficiency: operations development, products portfolio optimization, signing direct contracts with the producers. Currently we have contracts signed with producers that cumulate 70 percent of the drugs market. In 2018 we'll open new units especially in small and medium size cities, where the need for pharma services is uncovered," says Mihaela Ungureanu, general director of SIEPCOFAR S.A.