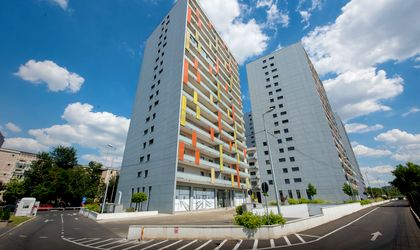 Alpha Real Estate Services (ARES) announces new data about the evolution of the residential project Doamna Ghica Plaza for 2016: 95 sold apartments in the first nine months at an average price of EUR 75,000 and over 1,000 tenants.
The sold apartments were of two and three rooms and, adding to the 315 apartments already sold in the complex. Thus, the number of the Doamna Ghica Plaza owners reaches 410, out of 616 apartments. The financing models for the acquisition were the loans offered by Alpha Bank to the clients who chose the acquisition of an apartment in Doamna Ghica Plaza complex and the loans directly from the developer. Currently all the two-room apartments have been sold.
The complex Doamna Ghica Plaza was finished in 2010 and in 2013 Alpha Real Estate Services took over the project management and continued the development of the assembly by improving the offered facilities and repositioned the project regarding the price policy and the targeted client type.
"When we took over the project we though about a wide transformation and development program: we made investments that focused on the tenants' comfort and we are constantly thinking of the tenants' lifestyle improvement. We tried to get together more clients, evaluating their purchasing power and thus structuring a price level and a payment scheme that responds better to their needs. All these measures had a positive effect and we are glad with the constant evolution of sales," said Razvan Caracota, sales manager Alpha Real Estate Services.
Doamna Ghica Plaza complex is situated in the north-east part near Obor area and the Mega Mall and Veranda Mall. It is made of nine buildings: four apartment blocks with 4 floors, 4 apartments with 16 floors each and one block of 24 floors. It has two underground levels with a capacity of 700 parking spaces and over 130 deposit spaces.
The prices for the 3-rooms apartments range between EUR 80,000 and 100,000.
Alpha Real Estate Services (ARES) is the real estate division of Alpha Bank group, with investments in residential field and a portfolio of over 600 apartments in Bucharest and Ilfov.
Georgiana Bendre