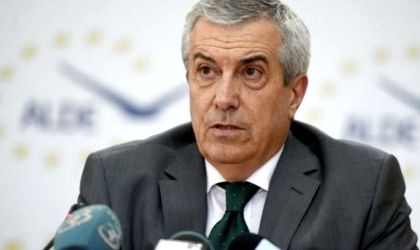 Anti-corruption (DNA) prosecutors have requested an approval from the Romanian Senate to start the criminal prosecution of Calin Popescu Tariceanu, the Senate's president and leader of the ALDE party, PSD's coalition partner.
The DNA is accusing Tariceanu of having taken an EUR 800,000 bribe from an Austrian company while he was prime minister (in the period 2007-2008). Prosecutors claim the money was used to cover electoral campaign costs, while the company obtained important contracts from the Romanian state.
The case, prosecutors said, was built in 2018 after the unification of three separate criminal cases, of which one was taken over by DNA at the request of Austrian judiciary authorities.
"Specifically, an official indirectly received material benefits worth approximately EUR 800,000 in the 2007-2008 period from representatives of an Austrian company, in exchange for the official taking action in order to help the company close several additional acts to a contract it had in the country. The bribe represented 10 percent of the value of these additional acts and used to the benefit of the official, and transferred to him through fictional contracts with several offshore companies," the DNA's statement reads.
The anti-corruption institutions noted that the same case also involves other persons who are being investigated for complicity to bribery.
The criminal prosecution of Calin Popescu Tariceanu depends on an approval from his colleagues in the Senate. The request was sent to the Senate today and MPs are expected to vote on it later today.
According to hotnews.ro, Tariceanu has cancelled his scheduled visit to the European ALDE party congress in Madrid, where the members are expected to discuss the possible exclusion of the Romanian ALDE party from the European group.