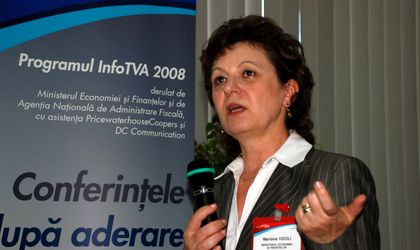 Prosecutors of the National Anti-corruption Directorate (DNA) have placed State Secretary with the Ministry of Finance Mariana Vizoli under criminal prosecution for abuse of office.
Vizoli is prosecuted alongside four other individuals, who, at the time the alleged offenses were perpetrated, were directors with the Ministry of Finance and The National Tax Authority (ANAF). The total damage in the case, dubbed the "Murfatlar case," is estimated at RON 597 million, and was perpetrated by four companies that produce and sell alcoholic beverages, which committed tax evasion.
Alongside Vizoli, the prosecutors also placed under judicial control six people, namely Ana Jarda, Daniel Diaconescu, Ciprian Badea, Monica Negrutiu, Cornel Potirniche and Viorel Potirniche.
Between 2010-2014, four companies producing and selling alcoholic beverages, owned or controlled by Ivanescu George, Bucura Catalin, Zlotea Gheorghe and other people, caused a total damage of RON 597,218,168.76 (approximately EUR 132 million) to the state budget by resorting to tax evasion. The criminal activity was enabled by the fact that the public servants with the tax and customs authorities either did not fulfill their attributions or conducted such activities improperly. 
Georgeta Gheorghe