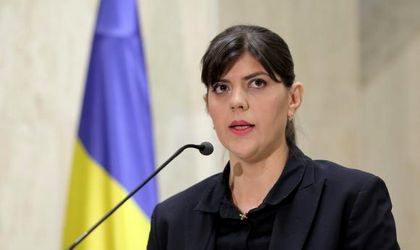 The National Anti-Corruption Directorate (DNA) sent to the court of justice 1,000 defendants last year, and one third of them were individuals with high ranking positions in the public sector, including three ministers, five deputies, one senator and two state secretaries, said Laura Codruta Kovesi, the head of the institution.
Kovesi added that over 3,800 corruption cases were finalized last year and EUR 159.5 million in seized assets were recovered by the state. Some 713 court sentences in cases investigated by the DNA were recorded in the same period.
"One third of the defendants carried out EU funds frauds, often with EU funds allocated for rural areas in poor communities," said Kovesi during an event where the DNA reviewed its results from 2017.
Speaking about last year's investigations, Kovesi said that prosecutors uncovered hospital managers that took bribes from suppliers of medical products and services.  "Benefits worth millions of euros are obtained in this way," said the chief prosecutor of the DNA.
Kovesi explained that last year was difficult for the fight against corruption.
President Klaus Iohannis, who attended the event, said that the principles of the rule of law are maintained through DNA's activity.
"You will continue to have in me a partner and supporter in the application of these principles," said Iohannis.
On Wednesday morning, the president said that we were getting "far away" for a dismissal decision in the case of Kovesi.
The Superior Council of Magistracy (CSM) issued a negative opinion on the request to dismiss DNA's head. The request came from the minister of justice, Tudorel Toader, who didn't attend today's event.