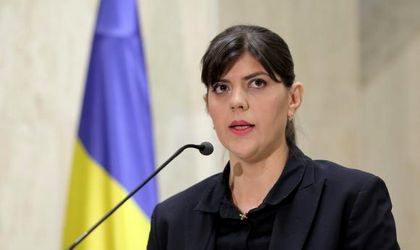 Laura Codruta Kovesi holds a press conference in reaction to the announcement that president Klaus Iohannis has signed the decree to remove her from office:
My term ends starting today. All I've achieved or haven't achieved has been written in a report.
I remind you that the proposal to dismiss me did not meet the legal requirements, and the Superior Council of Magistracy expressed a negative opinion on it.
The dismissal decree leaves a big question mark – will it be followed by prosecutors being subordinated to the Justice minister?
Starting today, I won't be working at the DNA. I will remain a prosecutor. I want to send a message to my colleagues: thank you all for your courage and professionalism, for your determination in fighting criminality. All we could do to defend ourselves was to notify the Superior Council of Magistracy. We have proven that no one is above the law, regardless of their power and wealth.
This fight is about defending society from dangerous criminals. We've seen what's left of criminal laws.
It's common sense to observe that the political will is to block investigations, to block justice. We plead for independent prosecutors.
DNA is a mature, professional institution. Do not abandon – carry on with your work. Today's episode does not represent a loss.
A message for citizens: Corruption can be defeated, do not abandon the fight.