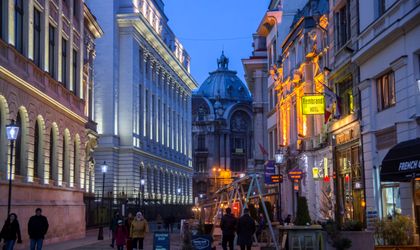 Starting with the capital Bucharest and continuing with up-and-coming destinations, such as Timisoara, the 2021 capital of culture, and Cluj, Romania offers plenty of city break destinations. Our advice? Look beyond Bucharest for new and exciting cities and you may discover a wealth of treasures off the beaten track.
Bucharest
The Romanian capital is the ultimate city break destination. It offers plenty of attractions, such as museums, art galleries and memorial houses. Not to mention lovely parks, shopping areas and, when visiting in summer, swimming pools. As expected from a large European metropolis, accommodation are in large supply, with options ranging from five-star hotels to hostels and pensions. Do not miss the Romanian Parliament, also known as the House of the People, and the Arch of Triumph, a replica of that of the French Champs Elysees, and make sure to take a walk on Calea Victoriei to discover the city's rich architectural heritage. Take the chance to eating at some of the best restaurants in the country, and make sure to make the best of your evenings, as the city is known for its legendary nightlife.
Timisoara
Winner of the title of the 2021 European Capital of Culture, Timisoara is fast becoming a popular destination for locals and tourists alike. The capital of the region of Banat, it is know for its Secessionist architecture, great food and as the city where the Romanian Revolution of 1989 started. Make sure to visit landmarks such as the central square, Piata Victoriei, Piata Unirii, dating from the Habsburg era, the Metropolitan Orthodox Cathedral, and more. The city has a wealth of museums, so make sure to set aside time for a visit to the art museum and, for a trip back in time, to the museum of the Communist consumer where you will see an exhibition of products sold during that time.
Cluj-Napoca
With its growing economy, Cluj-Napoca is also becoming a rich cultural hotspot with a lively restaurant scene. Any time os a good time for visiting Cluj. Nevertheless, a particularly good one is during one of the most effervescent times for the city, in spring, during the Transylvania International Film Festival (TIFF). The whole city gets involved in this celebration of films and art and the city's squares become host of open-air screenings and talks.
Brasov
Only a few hours' drive from Bucharest, Brasov has got it all to impress even the most demanding of tourists. From the great food to the sights, ski slopes in winter and the ever appealing Bran Castle, known as Dracula's abode, it is a must-visit destination year-round.
Iasi
The capital of the region of Moldova, Iasi is famous for its outstanding cultural heritage. Make sure you sample the local traditional dishes the region is famous for, visit the painted monasteries included in the UNESCO world heritage list and do not miss the iconic Palace of Culture, home to no less than four museums.