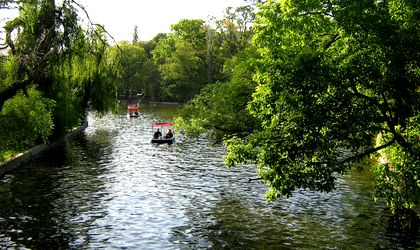 To many, Bucharest is a city of concrete. But the Romanian capital has many beautiful parks and charming gardens that can provide refuge on hot days and welcome you year-round for a stroll, regardless of the season. Check our list of 5 best parks and gardens in Bucharest.
Cismigiu Gardens
Located in the center of Bucharest, Cismigiu Gardens are the city's first public garden, opened in 1854. The park was designed by landscape designer Wilhelm Mayer in the style of English gardens and features playgrounds, a gazebo that hosts live concerts in summer and plenty of green meadows for picnics. In the middle of Cismigiu Gardens, an artificial lake is the perfect spot for renting a boat in summer or a pair of skates in winter.
Herastrau Park
Herastrau Park is one of Bucharest's largest parks, spread over 187 ha. Every week-end, it attracts everyone from families with children to joggers, bikers and nature lovers of all ages. Herastrau also features a lake that represents a great birdwatching spot. Want to see Herastrau from a different angle? Take a boat trip, with departures from the entrance close to Beraria H.
The park also includes protected trees. For instance, the cherry trees planted in the Japanese Garden, which were donated by the Emperor of Japan, as well as Tagore's Oak Tree, which was planted in 1961 to celebrate 100 years since the birth of Indian philosopher and writer Rabindranath Tagore.
Carol Park
Carol Park, a French style public park located in the southern-central area of the capital, was named after King Carol I of Romania. Designed by French landscape artist Edouard Redont in 1900, the park hosts a Mausoleum built in honor of revolutionary socialist militants. Enter the park from the June 11 Square and you will discover two 3.5 meter statues depicting two nude youths, placed at a distance of 50 meters from each other.
Tineretului Park
Tineretului Park is the capital's largest, covering a 200 ha surface. Designed by Romanian architect Valentin Donose, the park was built in only 8 months by youth, coordinated by the Communist authorities. The park features playgrounds, a lake that attracts numerous birds during migration periods, and plenty of lanes for long strolls.
Gradina Icoanei
This small urban garden is located in the very heart of Bucharest, near the Dacia Boulevard and the Unirii Square. A patch of green in the middle of the city, it represents the perfect quiet spot to stop and read a book in the shade on a hot day. The adjacent streets, dotted with beautiful villas with interior gardens are also very worthy of a look.