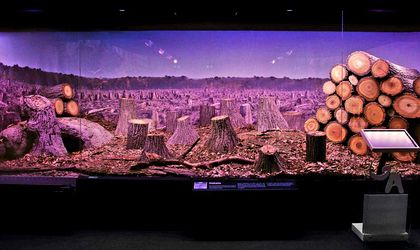 Diodrama was launched on the May 21, during the Museums' Night, as part of a cultural project signed by the National Museum of Natural History Grigore Antipa, WWF-Romania and Publicis Romania.
Under the headline "Am adus-o în muzeu ca să n-o întâlnești în natură" (I've brought it in the museum in order for you not to meet it in the nature), "Diodrama" aims to raise the awarness regarding the negative impact of illegal deforestation on the habitat.
The principal message of the Diodrama's unveiling moment was supported by Doctor Luis Ovidiu Popa, general director of the "Grigore Antipa" Museum, the host of the event, alongside Magor Csibi – program director of WWF Romania and the journalist Mircea Toma.
 "One of our objectives as the museum of natural science is the informing and education of the public towards the real problems of the environment, of the species and habitat, as well as the promoting of the respect for the nature. In this context enters as well the increasing of awareness of the public for the real problems of the environment, species and habitats," said Dr. Luis Ovidiu Popa, general director of the National Museum of Natural History "Grigore Antipa".
At the same time, the project reminds the visitors that at this moment there are instruments available that they can use to stop the illegal cutting of trees, such as the Forests' Radar.
The Diodrama will remain on display by June 5.
The museum is hosting one of the oldest diorama in the world.
The teams that have worked on this project include:
Grigore Antipa Museum:
Dr. Luis Ovidiu Popa (general director), Florentina Purdescu (PR, Cultural and Educational Marketing Chief), Lucian Chipuc (collaborator), Mircea Ciobanu (collaborator), Radu Pană (restaurateur), Bogdan Matei (preservateur), Bogdan Frațilă (SSM responsible)
WWF Romania:
Csibi Magor (program director), Ioana Betieanu (communication manager), Adriana Trocea (communication specialist), Ioana Cenusa (communications officer).
Publicis Romania:
Jorg Riommi (chief creative officer), Silviu Nedelschi (group creative director), Romulus Petcan (copywriter), Gabriel Gherca (art director), Stefan Manole (art director), Oana Radu (account director), Camelia Efrimov (senior AV producer), Andreea Grigorean (PR officer), Ioana Moasa (PR executive), Raluca Cojocaru (PR executive), Miruna Sandulescu (events account director), Nora Dumitrescu (set design), Lucian Moise (production).
Mitra Film – Adriana Ionica (post production)
Abis Studio – Mihnea Trancu
Guliver/Getty Images – Diana Floca
Romanita Oprea