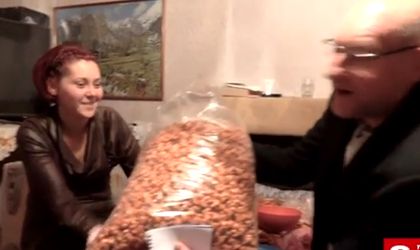 The Directorate for Investigating Organised Crime and Terrorism (DIICOT) has opened criminal investigation proceedings in rem in the case of the Romanian family working to assemble Kinder eggs. The case was featured in a story published by British tabloid The Sun.
The Satu Mare prosecutors started criminal proceedings after The Sun published a story featuring a Romanian family living in Carei, who assembled products for confectionery giant Ferrero. The Juri family, consisting of father Christian, mother Timea, son Patrick, 11, and Hannah, six, all work putting together toys for Kinder eggs. The toys are then sent to a factory in Carei, and are afterwards transported to Hungary, where they are incorporated into chocolate eggs.
The Head of the Head of the General Directorate of Social Assistance and Child Protection (DGASPC) Satu Mare, Mariana Dragos, stated on Tuesday that one Carei case was not one of child labour. Moreover, Dragos argued, the children go to school and do not skip classes.
"Following checks conducted at the site, we do not confirm the facts presented by the international press, by the The Sun newspaper. This is not at all a case of child labour, on the contrary. The mother's statements say that a journalist accompanied by a translator passed for employees of the companies making those toys who want to promote the toys among children. They were those who made the pictures as told by the journalist. At the same time, we checked whether the children are going to school. These kids do not miss classes, they go to school, even when we went there, they were at school. Therefore, it cannot be that they are made by the family to work for 13 hours," Dragos told Agerpres.
Georgeta Gheorghe