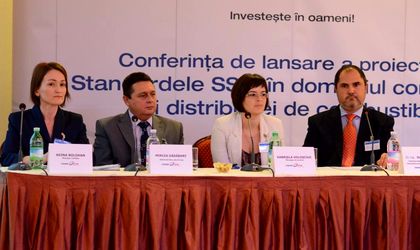 Diesel One, the fuel support division of edy transportation Group, presented today, in a press conference, the results of a project aimed at improving labor health and security standards for its employees (SSM). The company attracted an EUR 100.000 European grant for the fuels division, and roughly EUR 400.000 for the whole group, between 2010 and 2011. edy Group representatives stated that 90 percent of the company's employees participated in training sessions for safety and security awareness.
Adina Bolohan, Quality Manager for edy Group, mentioned that employers in the fuels division benefited from 4 months of tailored training sessions, both for the technical and administrative departments. A national information center was set up in Pecica, Arad County, where employees can consult informative materials regarding safety and security during work hours.       
The European Commission is trying to reduce the rate of labor accidents by 25 percent in the 2007-2012 time span, according to Doru Darabont, researcher at the laboratory for Management of Labor Health and Security. Darabont also mentioned that approximately 300.000 workers in the EU 27 suffered an accident in 2010, out of which 15.000 completely lost heir labor capacity.
According to official figures from the Romanian authorities, 3.670 labor accidents were reported last year, which is a rate of 0.79 percent of all activities. This year, this rate is expected to decrease to 0.56 percent. In the first trimester of 2011, a number of 625 labor accidents have been reported.  
Diesel One is the fuels distribution service of the edy Group. This division owns 17 gas stations in Romania and another 45 partner stations in the EU.
edy Group comprises of edy International Spedition (the largest transporter of general goods in Romania), edy Logistics & Distribution, Autocamion Service and Diesel One. The group reported a net turnover of RON 500 million in 2010.
Ovidiu Posirca