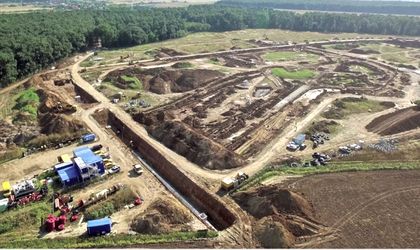 Loreco Investment, the developer of a residential project outside of Bucharest, in the Balotesti area, has started to sell land plots for houses, its strategy including the development of 90 hectares of land in five stages.
In the first stage, Loreco Investments plans to sell 140 land plots in the following 3 years, at a price of around EUR 150 per square meter.
Potential clients can build their own houses or can choose some pre-defined models. For instance, Huf Haus, the German manufacturer of high-end prefabricated timber and glass houses, has placed two buildings here. One of the houses costs EUR 1.2 million, while the other one has a price tag of EUR 3 million.
"Through Huf Haus we aimed to build a unique residential project, having the advantage of a great location, in the middle of the city and still close Bucharest," said Rey Muraru, the director of Loreco Investments.
The developer has invested roughly EUR 40 million to date in buying the land and setting up the infrastructure connections including water, electricity and roads.
In total, the project will have 24 km of roads and 4 km of optic fiber cables. The first complex of houses that will be constructed will have a modern park of 2.5 hectares that includes an amphitheater and play grounds.
Huf Haus recorded a turnover of EUR 80 million in 2015, employing 430 people. The company makes around 100 houses yearly, 40 percent of which are exported globally.
Ovidiu Posirca