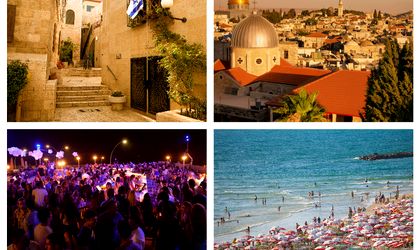 The Holy Land's two main cities – Jerusalem and Tel Aviv – make for a contrasting holiday destination for history buffs, party goers and sun lovers alike, BR discovered.
Think about Israel and the first thing that comes to mind is most likely Jerusalem, a city that covers less than one square kilometer but whose name nonetheless resonates in the hearts of Christians, Jews and Muslims alike. Yet a trip to the Holy Land and Jerusalem for that matter is not only for the religious. As BR found, Jerusalem makes for a great city break or longer holiday destination, and should you combine it with the capital you will get a feeling of why the locals say they pray in Jerusalem and party in Tel Aviv.
Pray in Jerusalem
There is so much to see and do in Jerusalem that doing your homework and putting together a travel plan before arrival is highly recommended in order to help you make the most of your time. Although the number of sights can be baffling, the good news is that most of the tourist attractions which make the city famous are packed within its Old City district and can be visited within a day.
Whether you're religious or not, a walk down Via Dolorosa, and a visit to the Church of the Holy Sepulcher, the Wailing Wall and the Dome of the Rock are a must for any first-time visitor. The starting point to all that is through the 16th century Jaffa Gate, which leads into Jerusalem's emblematic and history-packed Old City. Best to make a head start in order to avoid the crowds, especially if you visit the city during the peak summer months. First on the to see list should be the Tower of David Museum, also known as the Jerusalem Citadel, a fortification dating back to King David's time that has been destroyed and rebuilt repeatedly over the centuries. Its courtyard boasts important archaeological ruins, some dating back almost 3,000 years. At night the citadel's walls serve as the stage for the "Night Spectacular", an open-air sight and sound show that depicts the city's rich history.
Then head along the Via Dolorosa, the route marked by the 14 Stations of the Cross, where Jesus stopped on the way from where he was tried to his crucifixion and burial, according to Christian tradition. Navigating the twisty route can prove challenging at times and some of the stations – marked by medallions indicating each station in Roman numerals – can be easy to miss without a guide.
The route takes the modern pilgrim through the vibrant Muslim Quarter, where, leaving aside the religious, there are plenty of earthly pleasures to enjoy. The Arab souk is a warren of alleys packed with street stalls selling everything from chintzy souvenirs to lovely sticky sweets, spices, freshly squeezed pomegranate juice and fragrant street food. At the end of it all is the massive Church of the Holy Sepulcher, a maze of chapels and altars belonging to various Christian denominations with the Holy Sepulcher at its center. If you're considering visiting some of the other religious sites in Jerusalem such as the Wailing Wall or the Temple Mount, keep in mind that these involve security checks and access can be restricted during holidays.
There is plenty more to see in Jerusalem, and history buffs in particular will enjoy the city's numerous museums and whole caboodle of churches and historical sites, but don't overlook the town's more modern side. Visitors can shop in the upscale Mamilla Mall or enjoy dinner in one of the numerous
restaurants scattered across the city. For a better taste of local produce and cuisine head to the Mahane Yehuda market. Referred to simply as "The Shuk", Mahane Yehuda is the city's largest market and an iconic landmark in itself, with vending stalls and small eateries that showcase perhaps the best of Jerusalem's diversity and rich heritage.
Tel Aviv parties
Capital Tel Aviv is only 72 kilometers away from Jerusalem, but the two towns couldn't be more different. Israel's second largest city and business center may be small – with some 420,000 inhabitants – but it manages to pack in an array of attractive tourist options. Cosmopolitan and vibrant, Tel Aviv brandishes an effortlessly cool and trendy atmosphere. Those looking for sun bathing, shopping and clubbing will certainly find the city to their liking, while it also boasts a rich cultural scene.
The best way to explore is definitely on foot. Must-sees include the Rothschild Boulevard, the city's main artery, and the beautifully restored yuppie neighborhood of Neve Tzedek. Scattered all around the city center are more than 4,000 Bauhaus buildings which have earned Tel Aviv the UNESCO World Cultural Heritage site title as well as the nickname of "White City".
Even the weather is different in Tel Aviv. The city is on the Mediterranean coast, making its average temperature milder than that of hilly Jerusalem. So mild in fact, that sunbathing and swimming are possible as late as November on sunny afternoons. There are eight major beaches to choose from, lined with hotels, bars, restaurants and sports courses.
Walking along the beachfront promenade one reaches the nearby Jaffa, a restored ancient seaport, nowadays part of Tel Aviv. It is a maze of picturesque alleys with bohemian art galleries, boutiques, restaurants and bars, that also offers a stunning overview of Tel Aviv. Nearby is the Manshia Train Station, an Ottoman-era structure built back in 1892 which has been turned into a leisure complex packed with more galleries, boutiques, restaurants and cafés.
When it comes to dining options there is plenty to choose from, both in Tel Aviv and in Jaffa. The cuisine is generally Mediterranean, but with a distinctive combination of flavors typical of the more modern and adventurous Israeli fare. Locals have a laidback attitude to eating, enjoying long, rich meals, so expect plenty of tapas-style dishes in numerous eateries. Don't miss out on household names such as the creamy local hummus and kebabs or falafels with tahini and fire-roasted vegetables, but do venture to try the many local dishes that reflect so well the city's rich cultural heritage.
Just like in Jerusalem, be sure to check out the city's markets. The bustling and colorful Carmel market is Tel Aviv's most famous, but don't miss the trendy Sarona compound as well. This area of Tel Aviv was an agricultural colony established by German Templars in 1871, but it has been transformed into a complex centered around the market. Outdoors are picturesque houses, restaurants and boutiques along green alleys, lily ponds and relaxation areas, where visitors can enjoy a laidback atmosphere nestled by the surrounding high-rises. Indoors is the market itself, which boasts dozens of specialist food shops selling local produce such as vegetables, pastries, wines, olive oil, cheese and dried fruit. In addition there is also an impressive international range to choose from as well as small restaurants.
At nighttime Tel Aviv transforms. Start the evening in one of the numerous seaside bars, pubs or downtown wine bars and even "gallery bars". Past midnight the clubs slowly start to fill up, yet choosing one can prove quite a challenge given Tel Aviv's notable clubbing scene. The safest bet for first-time visitors is to go back to the southern end of the Rothschild Boulevard, the city's main artery, where some of the best bars and clubs can be found. Parties go on until dawn, confirming that Tel Aviv is indeed a city that never sleeps.
Getting there
The best way to get to either Jerusalem or Tel Aviv is via Ben Gurion airport. Should you fly with Israeli airline El Al, consider arriving at Otopeni airport a bit earlier than for a regular flight to allow time for the extensive security check. Once in Israel, the accommodation is very varied, ranging from low-cost hostels to five-star hotels.
Several local travel agencies also offer packages to Israel. For example, a EUR 669 per person package from Cocktail Holidays includes a Tarom flight, airport fees, transfers, five nights' accommodation in three- and four-star hotels at half-board, as well as entry to several sights and tours. In addition to Jerusalem and Tel Aviv, holidaymakers get to visit other attractions in Israel, such as Nazareth, Bethlehem, the Dead Sea and Mount Tabor.
A similar five-night package costs EUR 404 per person, not including airport fees, with Agetur. Starting prices for another religious-oriented tour with Paralela 45 are EUR 470 per person, with booking required six months in advance.