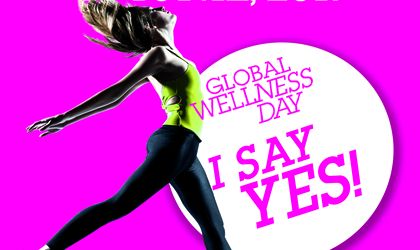 DespreSpa.ro, the comprehensive Romanian portal offering information and offers relating to the Wellness and SPA sector, organizes for the third time in Romania the Global Wellness Day on June 10th.
In 2017, the event will take place in 100 countries in over 4,000 locations. In Romania, 33 SPA centers have joined the initiative and will offer those who visit them free access on June 10.
"The goal of the event is for people to understand they should always take care of their health, not only when they are sick; to gain awareness, through the wellness activities we prepared, such as physical activities, meditation and correct breathing can improve their lifestyle as well as their life span," Ioana Marian, despreSpa.ro founder and Global Wellness Day Ambassador to Romania said.
"We hope that by conveying this message and by what will take place every year in the second Saturday of June, we will manage to go one step further,!" Marian added.
You can find the full list of participating SPA centers here.
In Bucharest, Complexul Sportiv Studentesc Tei will host activities carried out by the despreSpa.ro team. Similar activities will take place in Timisoara's Parcul Copiilor.
Global Wellness Day concept revolves around a 7-step manifesto, encouraging people to walk for one hour everyday, to drink more water, to eat organic food and do good deeds.
During Global Wellness Day, the activities offered include pilates, zumba, yoga classes, hiking as well as breathing, laughing and mindfulness therapies.