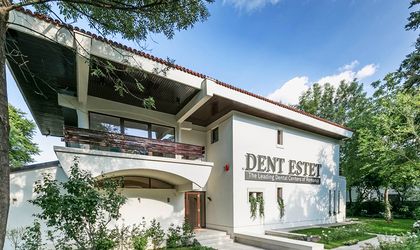 The Dent Estet Clinic Group, owned by MedLife, reported a 15 percent increase in turnover in the first half of 2018 compared to the same period last year, reaching EUR 4.8 million.
"The results achieved by Dent Estet in the first half of 2018 confirm its position as the absolute leader in the Romanian dental services market. We are pursuing the regional expansion strategy, and by the end of the year two clinics will be inaugurated in Sibiu, one for adults and the other for children, providing access to dental services of excellence and revolutionary digital technologies, "says Mihai Marcu, president of the Council of Administration of MedLife.
The first semester of 2018 the number of new patients who visited the clinics, reached the 4,237 and at the same time, in the first six months of 2018, 14,841 single patients crossed visited Dent Estet clinics.
In a fragmented market, but with great potential for development, Dent Estet planned that by the end of 2018 will expand with two clinics in Sibiu, one dedicated to adult services, and the second dedicated to children. The two new units will provide patients with multidisciplinary expertise, digital treatments and access to the best technologies.
Currently, the company has 7 clinics in Bucharest and one in Timisoara. In 2017, Dent Estet inaugurated in Bucharest the largest clinic in the group, with the highest degree of digitization in the country. The Dent Estet Group includes Dent Estet Clinic, Green Dental Clinic, Dentist 4 Kids and Aspen Laborator.