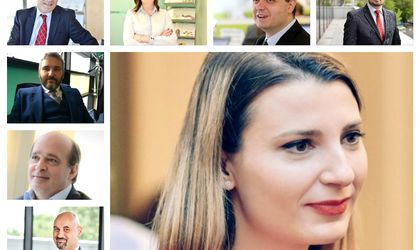 Professioal services firm Deloitte Romania has promoted eight new directors covering all service lines: tax, audit, risk advisory, management consulting and financial advisory.
"I am delighted to announce the promotion of such a talented group of individuals to senior positions within Deloitte. I am confident that they will rise to the challenges of their new roles to make an impact that matters," said Ahmed Hassan, country managing partner Deloitte Romania.
Silviu Sandache is a tax professional in the Romanian energy and resource businesses. He serves the biggest players in oil & gas on-shore and off-shore as well as the most important companies in power distribution and supply. Sandache has led teams in assisting clients during M&A projects, reorganizations, business modelling and tax litigations. He has an economic background, graduating from the Marketing Faculty in ASE. He has been a member of the Romanian Tax Advisors Chamber since 2006 and graduated from ACCA in 2009.
Camelia Malahov is Deloitte Romania's direct tax expert for Retail and Consumer Business companies, with experience spanning over 11 years. She is a fiscal advisor for top domestic and international companies, providing ongoing assistance on matters specific to the Retail and Consumer Business industry.  Her future responsibilities include further consolidating Deloitte's position on the market and growing a dedicated team ready to support and advise Retail and Consumer Business companies, in view of an ever complex and challenging business environment, both locally and abroad. Malahov graduated from the Bucharest University of Economic Studies in 2005 with a major in Accounting and Audit.
Oana Buhaescu has more than 12 years of experience in audit and advisory. She has wide experience in auditing financial statements in accordance with the Romanian Accounting Standards, US GAAP and the International Financial Reporting Standards (IFRS). She has also conducted advisory services for financial statements in accordance with the IFRS. Buhaescu supervises audit team members and reviews their work, maintains contacts with clients and plans and executes financial audits.
Adrian Covacescu has successfully developed a new business line around transformation of organizations now part of Deloitte Private Initiative addressing established private enterprises run by a single family or not. Covacescu started his career in 2003 as an auditor and enjoyed the opportunity of working on international due diligence projects.
Mircea Nicolae Cotoros is an experienced professional with over 11 years of practice in European affairs both at policy and EU funding level. Cotoros has significantly contributed to the firm's EU financing business line both with public and private companies. He is a graduate in Economics from the Trieste University and has a certificate in project management, public acquisitions, evaluation and fraud risk prevention of European projects.
Catalin Tiganila has over 15 years of experience in IT Audit, Information Security and IT Governance. His specializes in Information & Cyber Security, Controls Transformation, IT Audits, ISAE 3042 and SSAE 16 Readiness and Audit, Risk Management, Internet Security, Business Continuity, Business Process Improvement, Project Management, Training, IT Advisory, SOX 404 Design and Implementation.
Radu Kubinschi is a management consulting professional, providing consulting services to both public and private clients for more than 20 years. He has deep expertise in an integrate macroeconomic and public policy-related projects covering services related to technical assistance to public institutions, public policies, training & institutional building, human capital development related projects, process reengineering, EU funds & alternative financing & financial instruments, social initiatives.
Florin Paunescu is a corporate finance professional with expertise in origination and execution of more than 40 projects in acquisitions, divestitures, mergers and de-mergers, joint ventures, spin-offs, leveraged buyouts, management buyouts, privatization advice and project finance. He has 13 years of experience in investment banking and corporate finance and he closed a number of successful M&A transactions in Romania for foreign investors.
Georgiana Bendre