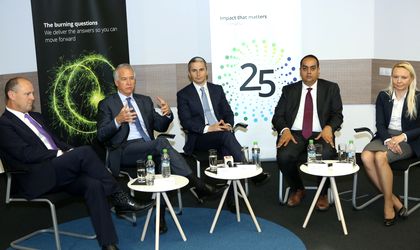 Deloitte has opened today its European Regional Delivery Center in Bucharest. Operating under the name of Deloitte Tehnologie, the center is the firm's only in continental Europe and will reach 800 staff by 2020.
The European Regional Delivery Center will serve as a software hub for clients in Romania and across the world and is part of the firm's strategic investments meant to apply leading technology to serve clients across businesses and regions. Currently, the center, located in Bucharest's Pipera business district, employs 100, mostly Romanian, save from three and will mainly look to hire from the local talent pool.
The European Regional Delivery Center will supply services based on SAP, Analytics/Information Management (AIM), and Digital technologies to Deloitte clients in Romania as well as in major European markets such as England and Germany, providing software applications and services to 75 percent of Fortune 100 companies. Clients will come from the financial services, automotive, healthcare, retail as well as the energy and public sectors.
"Choosing Bucharest as the location for Deloitte's technology centre is a recognition of the talented IT resources the country has and of the dynamics of the local IT market," said Satya Swaroop Roddam, managing director Deloitte Tehnologie, who also said Bucharest was chosen over Cluj due to better flight connections. "I am confident the European Regional Delivery Center will become a reference center worldwide and will provide Romanian IT talents the opportunity to expand their skills by being involved in major international projects," he added.
According to Jim Moffatt, Deloitte managing director, global consulting business leader, also present at the opening, the Bucharest centre will become the crown jewel of the network in a few years' time.
Ahmed Hassan, country managing partner Deloitte Romania said: "At the firm's 25th anniversary in Romania I am happy that we are able to bring new business lines thus positioning ourselves closer to our aspiration of leaders in digital transformation strategy in our response to ever changing client demands."
Speaking at the event, Augustin Jianu, Minister of Communications and for Information Society, the governing program of the executive includes measures aimed at enabling the IT&C sector to contribute 10 percent of the GDP. "We also welcome the investment because it is an American investment, and we have a Strategic Partnership with the US," Jianu added.
Deloitte's European Regional Delivery Center aims to contribute to the development of the local talents, by engaging the center's employees in key global projects of Deloitte, and assuring know-how transfer with the highly-experienced staff from the technology centers Deloitte operates worldwide. The new team adds up to the more than 600 already existing people Deloitte has in Romania, whose entire team could reach 2,000.
The European Regional Delivery Center in Bucharest joins the other three technology centers Deloitte has already implemented worldwide: Hyderabad (India), Belfast (Northern Ireland), Orlando (USA), with technology being a main pillar for Deloitte's growth around the world.