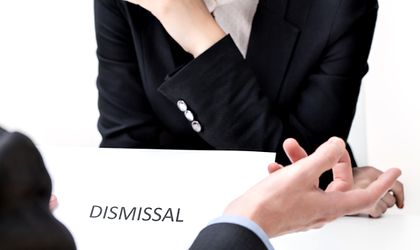 Romania is among the countries with the lowest costs of dismissal for employers in Europe, either due to individual or economic reasons, according to a survey by Deloitte Legal, represented in Romania by Reff & Associates.
The analysis compares six costs of dismissal in 45 countries. The survey data represents three separate cases with different seniority and remuneration packages.
Florentina Munteanu, partner and head of the employment law practice at Reff & Associates, said: "Our survey shows that the costs of dismissal in Romania are generally lower than in other countries and are not influenced by the variable seniority. An explanation for this is found in the provisions of the Romanian Labour Code, which makes no distinction in the dismissal conditions due to seniority. Many employers have regulated dismissal conditions within collective bargaining agreements and from our experience we can confirm that seniority is a variable influencing the severance package. However, such agreements are of limited applicability (at employer or sector of activity level), therefore we cannot consider this practice as generally applicable at the level of employers in Romania."
Key highlights of the survey: 
A number of countries, such as France, Italy and the Netherlands have reformed their dismissal legislation in order to increase labour flexibility and/or financial predictability of dismissal costs.
In over 75 percent of the surveyed countries, the employee may be reinstated by the courts if the reasons for dismissals are deemed unjustified. Upfront approval is only required in two of the surveyed countries, the Netherlands and Ecuador. In only a limited number of countries, the employer has absolute power to dismiss without any possibility of reinstatement.
In almost all surveyed countries, seniority is the key factor in determining the level of dismissal cost. However, over 60 percent of all participating countries have capped either the notice period of the severance indemnity or both.
Basic dismissal concepts such as dismissal for serious cause and protection against dismissal of certain categories of employees (e.g. maternity, educational leave, political mandate, etc.) are present in almost all countries. Among others, dismissal of employees in Romania is forbidden during maternity leave, paid leave or during exercising of an eligible position within a union body.
In some countries, termination is only possible for the reasons stipulated explicitly by law. Romania is among these countries.
For all scenarios for dismissal with an objective individual or economic reason, we see that the dismissal cost varies widely between legislations, without any geographical preference.
Comparing all scenarios for dismissal without any objective reason, employers in certain European countries encounter the highest costs, even though huge regional variations continue to exist.
The highest increase in dismissal cost is triggered by the severance indemnity or indemnity for unlawful dismissal which is due if an employee is dismissed without an objective reason.
Photo: dreamstime.com