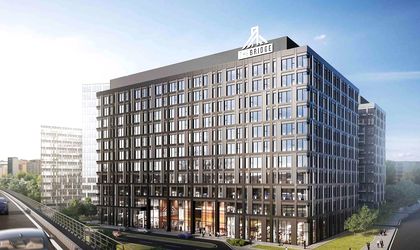 The owners of Dedeman DYI network, brothers Dragos and Adrian Paval, are sweeping the real estate market again, looking for a project to acquire. It seems that The Bridge, the office project developed by Forte Partners close to the Basarab Overpass, has attracted their attention. The project, evaluated above EUR 100 million, could become the second target of Dedeman on the real estate market.
The office complex will include two buildings with a total rental surface of approximately 58,000 sqm, one building being already finalised, the other still in development.
The largest tenant of The Bridge is BCR, which leased 18,000 sqm in the project.
Dedeman, the only entrepreneurial company in Romania with a turnover above EUR 1 billion and a net profit of almost EUR 200 million tried last summer to take over AFI Park office project buildings, developed by AFI Europe, in a transaction which fell inexplicably.
The two companies announced on June 1 that they had agreed to pass AFI Park 1, 2 and 3 in Dedeman property for EUR 86.5 million, and the company would also have the option to acquire AFI Park 4 & 5, and the value of the transaction would have exceeded EUR 160 million.
One day after the transaction was announced, the two sides returned with another announcement that everything was stopped.
In the year that passed, Dedeman owners Dragos and Adrian Paval were active and had constant acquisitions of shares of listed companies on the Bucharest Stock Exchange, including Conpet, Transelectrica, Electrica and Cemacon.
Paval brothers have also placed EUR 2 million in ROCA, a platform that wants to attract funds from investors that will be later placed in companies in need of financing, launched by CITR Group.