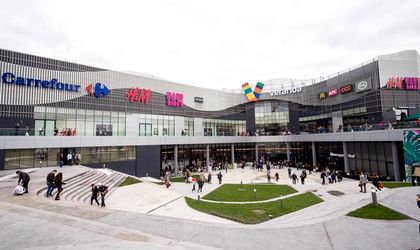 Decathlon will open a 1,900 sqm store in Veranda Mall, which continues its 6,000 sqm expansion of EUR 10 million, by introducing new brands, thus diversifying its offer to its customers.
In the first part of 2019, Veranda Mall is about to complete the reconfiguration and extension of the 2nd floor to host a cinema.
"By expanding commercial space, we want to be a landmark for the consumers in Bucharest, offering them complex and complete alternatives of activities. Soon they will be able to benefit from the best sports equipment deals right from Decathlon, for the first time in the city center. Also, the calendar of expansion until the spring of 2019 will continue with World Class in October, an international cinema operator and other retail space, "said Valentina Dobrescu, Veranda Mall director.
Veranda Mall is the first proximity shopping center in Bucharest, developed by Professional Imo Partners. (formerly Prodplast Imobiliare) in the Obor area, inaugurated on October 27, 2016.
The project has a total area of ​​nearly 30,000 square meters of leasable area and a green area of ​​15,000 sqm. Tenants include Carrefour, H & M, CCC, Deichmann, LC Waikiki, Noriel, Pepco, Gerovital, Yves Rocher, Optiblu, Sensiblu, Cupo, Metropolis, KFC, Starbucks, Pizza Colosseum, Arsis-Vodafone and IQ BOX – Telekom.