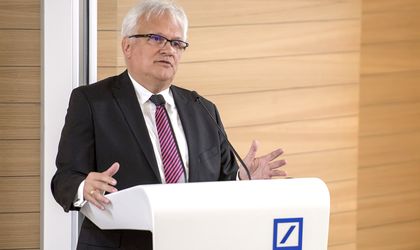 DB Global Technology, Deutsche Bank's technology centre in Bucharest, has inaugurated a new research and development hub, a digital workplace floor and a state-of-the-art event venue after an EUR 20 million investment.
The new Bucharest Technology Hub is part of Deutsche Bank's strong commitment to the local technology and start-up sector, the company said in a statement. Its role is that to help the bank evaluate and adopt emerging technologies, to develop a culture of innovation and contribute to the bank's digital strategy. The Bucharest hub is part of the international network of Deutsche Bank innovation labs in New York, Silicon Valley, Berlin and London.
DB's initial investment of EUR 10 million in the Bucharest DB Global Technology, opened in 2014, doubled with the opening of the new facilities. The centre attracted state aid totalling EUR 17 million, which did not account towards the investment in fixed assets. Instead, the amount is used towards staff expenses. The centre currently employs over 800 and is planning to hire another 200 highly skilled staff.
"The technology centre in Bucharest is amongst Deutsche Bank's most diverse, vibrant and creative spaces," said Kim Hammonds, COO and member of the management board of Deutsche Bank. "By providing a strong base for innovation in the region and helping to develop the local fintech community, the centre is supporting our ambitions to become a technology-led company. Speaking of the composition of the Bucharest team, Hammonds said: "I am super proud. We have 40 percent gender diversity, a percentage that exceeds the percentage recorded across my entire staff. We also have 70 percent millennials, young people representing the next generation. Overall, we have smart, vibrant employees and a good mix of workforce, showing diversity."
The new Bucharest unit aims to offer both the centre's professionals and local IT and technology start-ups access to a state-of-the-art research and development environment. It also works closely with the Deutsche Bank innovation labs to apply the best solutions from the global innovation eco-systems to address business challenges and opportunities within the bank.
"After just three years since it became operational, DB Global Technology is a core innovation unit within the Deutsche Bank international network. These new spaces are achievements to be proud of, and offer significant opportunities for our local team to develop and grow," said Marian V. Popa, general manager of DB Global Technology.
Deutsche Bank also reinforces its ambition to become more technology-led with the introduction of a Digital Workplace Floor and DB Connect, a fully equipped state-of-the-art event venue, within its Bucharest technology centre. The new Digital Workplace Floor is designed as a city, and aims to transform the fixed and formal workspace into a place that suits a variety of activities and work preferences.
DB Connect is a multifunctional venue designed for the interaction of DBGT professionals with the whole IT industry and ultimately with the society in which the company carries out business. Its main purpose is to offer the local start-up and technology sector an additional environment for discussions and innovation.
DB Global Technology develops software solutions for Deutsche Bank's global operations and represents a platform for highly trained software engineers, being operational since 2014.