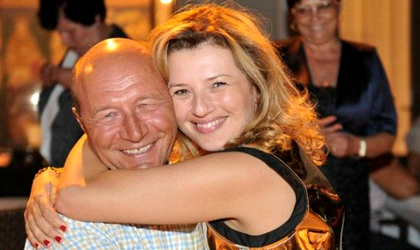 Ioana Basescu, one of the two daughters of former president Traian Basescu, is being prosecuted for incitement to abuse of office and to money laundering, in a case involving the financing of her father's presidential campaign in 2009, when he was elected for a second mandate.
Prosecutor said that she asked for the payment of an invoice for the electoral campaign by state-owned firm Oil Terminal. The anti-graft agency DNA said in a statement that Ioana Basescu pocketed the RON 100,000 and went on holiday in Cuba with her boyfriend. The money was paid through fake contracts.
The former head of Oil Terminal, the company specialized the circulation of oil, liquid petroleum products and petrochemicals and other products, Ioan Silviu Wagner, is accused of abuse in office.
"Based on the request, on December 30 2009, the company represented by defendant Wagner Silviu Ioan closed a fake contract of services with a certain firm, worth RON 419,000, the mentioned price in the contract being the one indicated by the defendant Basescu Ioana who brokered this transaction," said the DNA.
Through this contract, Oil Terminal was buying advertising services from a company that did not have a lot of experience in this industry, according to prosecutors. This firm was paid only RON 119,000 and the RON 100,000 were transfered to another company managed by Ioana Basescu's boyfriend. This is how they were able to finance their holiday.
Ioana Basescu works as a notary and is under judicial control in this case.
Her boyfriend at that time, Francesco Giovanni – Mario, is accused of tax evasion and money laundering. Mario's firm got RON 2.5 million from a company aiming to open two TV stations. The DNA says that the contract was not reported to the tax authorities, resulting in a fraud of RON 735,098. This money was used for the payment of some services in the political campaign, due to the instigation of his girlfriend Ioana Basescu, according to prosecutors.
The DNA added that Elena Udrea, who is currently an MP, was the person that brokered the relation between the persons that generated the illegal funds and the companies providing political campaign services. In this way,
Basescu campaign team was able to get outdoor advertising and in the media, to create online platform and to organize shows.
Six people are prosecuted in this case and all of them were placed under judicial control.
Udrea ran for president in 2014. She is currently on trial in a corruption case. The current husband of Ioana Basescu, lawyer Radu Pricop, is on trial in a separate corruption case.
Ovidiu Posirca