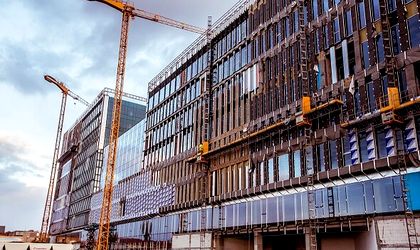 Software and electronic data processing company Datagroup has leased a 1,200 sqm space in the Vox Technology Park building in Timisoara.
Datagroup is one of the oldest Romanian companies in the sector, founded in Timisoara in 1995, will relocate its team at the beginning of next year, as Vox Technology Park will be completed this month.
Vox Technology Park is one of the most modern office building projects in Romania, and it will offer unique facilities such as biometric identification for building access, charging stations for electric cars in the parking lot, bicycle racks, showers, food court, gym.
Werk Property Group, the project's developer, is part of the Werk group of companies, which has developed over 800 apartments and tens of thousands of square meters of industrial warehouses, hotels and office buildings.
Virgil Tornoreanu, managing partner of Werk Property Group: "IT&C is one of the sectors leading the demand for modern office spaces and all developers are targeting this sector. Through Vox Technology Park we have aimed to create a modern office building that is future-oriented and represents a true tech hub, with unique technological facilities at the national level, and the fact that over 80% of the building's surface was contracted by IT&C companies confirms our attractiveness for this sector".
Vox Technology Park will have modern facilities such as biometric identification through an app that generates QR codes from facial recognition or fingerprint scanning, as well as competitive advantages for future employees, such as a gym, showers, bike racks, food court, shops and services. The project offers 3,500 sqm per each floor, the biggest floor surfaces available in Timisoara.
The project will also provide 400 parking spaces which will be completed next year, including a number of charging stations for electric cars. With 280 other parking spaces already available, Vox Technology Park will offer one of the best ratios between building surface and available parking spaces, of one parking space per 38 sqm available for leasing.