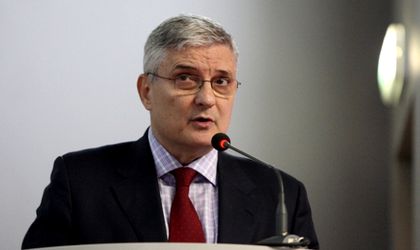 Daniel Daianu has resigned from the position of nonexecutive member of the National Bank of Romania (BNR) board just a few days after he failed to secure another term. Daianu was named a member of the Fiscal Council.
"Taking into account the appointment of Mr. Daniel Daianu as a member of the Fiscal Council, we hereby notify you of his withdrawal from the post of non-executive member of the BNR board starting with July 8, 2019," the central bank said on Monday, in a press release.
Last week, Mugur Isarescu, currently the longest serving central bank governor in the world, has secured another 5-year term at the head of Romania's central bank as it won the support of the ruling governing alliance and of opposition parties. The Romanian Parliament has approved on Wednesday the new members of the executive board of the central bank.
The central bank's board include 9 members.
The full list of members in the next 5-year term:
Mugur Isarescu – governor
Florin Georgescu – first deputy governor
Leonardo Badea – deputy governor
Eugen Nicolaescu – deputy governor
Csaba Balint – member
Gheorghe Gherghina – member
Cristian Popa – member
Radu Rușanu – member
Virgiliu Stoenescu – memeber
Five of the new board members were reelected – Isarescu, Georgescu, Nicolaescu, Gherghina and Stoenescu.
Isarescu has been a governor of the BNR since 1990 and he is the longest serving central bank governor in the world.