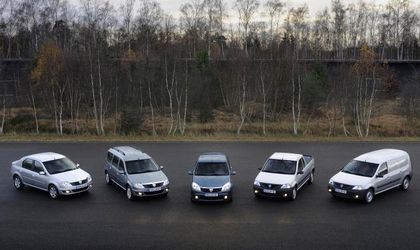 Dacia registrations increased by 12 percent in February in the European Union and EFTA countries to 33,159 units, on the background of a 2.1 percent growth recorded by the European auto market, the European Automobile Manufacturers' Association (ACEA) announced.
Moreover, in the first two months of the year registrations of Dacia cars in Europe went up by 10.8 percent to 66,905 units. Overall, 1.114 million cars were registered in Europe in February 2017, up by 2.1 percent year-on-year.
The European car market was supported last month by a 6.2 percent increase of registrations in Italy and a 15 percent increase in the Netherlands. Conversely, on other large markets such as those on Germany, France and the United Kingdom, car sales went down by 2.6 percent, 2.9 percent and 0.3 percent respectively in February, traditionally a quiet month for the auto market.
The performance of the new EU member states was noteworthy (a 15.9 percent increase), which contributed in a positive way to results posted in the region, ACEA reported.
Among car manufacturers, Italy's Fiat saw an 8.3 percent increase, while French group Renault recorded a 5.3 percent growth. Volkswagen sales went down by 7 percent and Peugeot registrations also decreased by 3.7 percent.
In the first two months of the year, the European car market recorded a 6.1 percent increase, with 2.137 million of cars registered.
Dacia was taken over by Renault in 1999. Relaunched in 2004 with the Logan model, Dacia is enjoying a high profile on the European auto market.