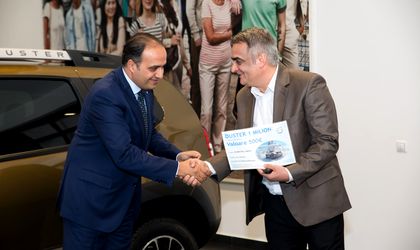 Dumitru Jianu from Bucharest has become the owner of the Duster car with the number 1 million produced in the factory from Mioveni. It's a Black Touch 4×4 model.
The keys of the car was handed by Hakim Boutehra, general director Renault Commercial Roumanie.
"Duster is the business card of Dacia range. It's the model that succeeded to embed our brand both in Romania and in various countries where clients can search for a massive and modern SUV. I am thrilled to hand the keys to of this anniversary model to a Romanian client- the country of Dacia brand,"  said Boutehra.
Duster is produced currently in the factory from Mioveni, in Arges county, as well as in other factories outside Romania, in Russia, India, Columbia and Brasil.
In the first 11 months of the year, almost 6,300 Duster cars were delivered to the Romanian clients, placing Duster SUV on the second place in the ranking of the best sold models from Romania.
Georgiana Bendre