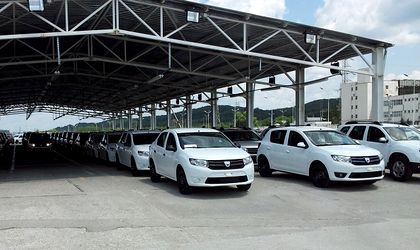 The new CEO of Dacia Automobile Renault Romania Antoine Doucerain will assume his new role starting tomorrow and has announced some of the plans of the automaker.
"It is really important for Dacia to keep the DNA of the company", said Doucerain in a press conference held together with the former CEO Yves Caracatzanis. "This means to keep producing attractive cars with good quality and best prices", says Doucerain explaining that this is a competitive advantage.
Caracatzanis, who spent two years as head of the Romanian division, admitted that his mandate was too short, but Dacia had a constant performance. "It was important to keep the good results and we succeeded in doing that as we keep getting record results. We also developed the engineering department, that of services, we modernized the factory. In 2018 we will recruit 1,000 more people, mostly for the engineering division", says Caracatzanis. He pointed out that Renault has invested EUR 2.8 billion in Romania so far.
Among elements that an investor considers when investing in a country mentioned by Caracatzanis are competitiveness, infrastructure, predictability and stability. This are the things that Romania must improve in order to remain attractive for foreign investors.
Antoine Doucerain will report to Nicolas Maure, Director of Groupe Renault operations for the Eurasia Region, which includes Romania.
The new General Manager of Automobile Dacia and Groupe Renault Romania has been working at Renault since 1993, where he was part of the Logistics Engineering Division team. He continued his manufacturing career, first at the Douai plant, where he held positions such as Technical Director, Deputy Manufacturing Manager and in 2010 he is appointed as Maubeuge plant manager, where the Kangoo ZE was mande and prepared the Citan for Daimler. In 2012, Antoine Doucerain goes to Brazil to coordinate the creation of a new Nissan plant and start production of the Micra and Versa models. From May 2015 he returns to France and occupies the position of industrial director, ensuring the coordination of eight Renault plants (Industrial Pole Vest).
Groupe Renault is a car manufacturer since 1898, present in 127 countries. In 2017, the company reported 3.76 million vehicles sold. In 2016, Groupe Renault Romania exceeded EUR 5 billion in turnover. The group, which employs 17,000 people, is the leader in the local Dacia and Renault brands.