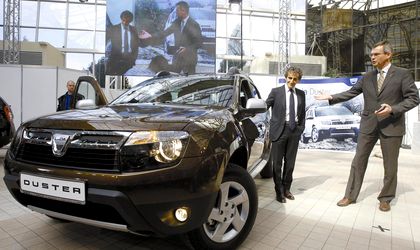 Automobile Dacia has launched its Duster SUV, the sixth model from the carmaker, in Romania. On the local market the vehicle will cost between EUR 10,500, for the 4×2, 1.6 and 105 HP version, and EUR 15,600, for the 4×4, 1.5 dCI and 110 HP Laureate version. It will be up to EUR 5,000 cheaper than competing models. "The Duster will consolidate Dacia's international expansion and allow us to win new clients, attracted by the modern and robust aspect, and especially by the performance-price ratio," said Jerome Olive, Dacia GM.
According to company data, the Duster is a concept created exclusively by Romanian engineers at Renault's design center in Bucharest. However, the prototype was assembled in France, in cooperation with the Renault Design techno-center in Guyancourt.
The Duster SUV could represent around 20 percent of the Romanian factory's production this year, ranking third after the Sandero and Logan sedan in terms of the number of units. Company representatives say that they have already seen strong demand for the model.
Dana Ciuraru