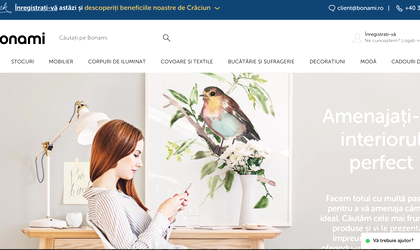 Czech online shop Bonami, selling home&deco objects and furniture, forecasts an EUR 4 million turnover for 2018, up by 75 percent compared to 2017, the company's first on the Romanian market. Currently, Bonami has 800,000 registered users in Romania.
Two years after entering the Romanian market, Bonami, which is present on the Czech, Polish, Slovakian, Hungarian and Romanian market, forecasts that its turnover on the Romanian market will stand at EUR 4 million this year. This represents 10 percent of the company's total turnover.
This year the company expanded its selection of products available on the Romanian market to 12,000 and the warehouse space covers 10,000 meters. The web shop also aims to cut the delivery time down from 6 days.
According to Bonami, Romanians are increasingly interested in buying furniture online. The sales in the furniture category went up by 200 percent this year, the company reported. The company currently offers 30,000 furniture products. In 2018 the company doubled its offering of products.
In September 2018 Bonami also entered the Hungarian market. "Based on the experience gathered on other markets, of the current number of subscriptions, of over 100,000, and of the low competition on the Hungarian market, we expect Hungary to reach this year a turnover of EUR 600,000. This represents the quickest launch in all countries," David Siska, CEO Bonami said.