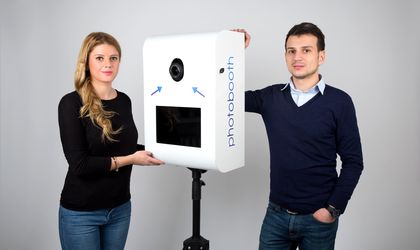 It is a business born out of passion, commitment and ambition. It all started with a camera and a mediocre printer in a club in Old Center 3 years ago, Catalin managed to develop in just two years a business with an annual figure of over EUR 100,000, participating at over 500 events.
The story of "Cutia cu poze" began in 2014, at events in Old Center where he took fridge magnets photos, with revenue of RON 150-200 per event. Catalin's product has been appreciated and has captured the attention of customers all around.
"In 2014 I used to operate only in the clubs, taking pictures of customers with a camera, then I printed it on an amateur printer, trivial for this area, and then I applied a magnetic foil. After that I looked for customers and sold them the pictures of RON 10 per piece. So it all started like that," said Catalin Melinte, founder.
Then, with an entrepreneurial native spirit Catalin raised money and reinvested all the profits, constructing the first photo booth, wooden and rudimentary compared to those used at that moment, but the requests were quick to appear and soon was born the second photo booth and the business began to grow. At that time, "Cutia cu poze" was among the top three businesses in these domain in the capital and among the top 5 in Romania.
A year ago Mihai Diaconu and Corina Ionescu joined the team and together have developed and invested capital in the development of equipment, and in present "Cutia cu poze" (https://www.vreaucabinafoto.ro ) has an impressive number of photo booths and is among the main players on the market.
The new photo booths but also the new launched digital totems, hashtag (#) printing have an innovative design and for their creation was  used top of the line technology, investing in the summer of 2016, about EUR 40,000.
"To build this Photobooth I was working almost non-stop. In the day, I went to my job and in the evening I went to events, and thus with  the money raised I was able to buy equipment for the first photo booth. A PCunit, a touchscreen monitor and a wooden booth," added Catalin Melinte, founder of Cutia cu poze.
Currently, the business is on an upward trend and the team is working on new elements of innovation in photography and in the franchise contract, wanting to expand the business, also, in other cities.