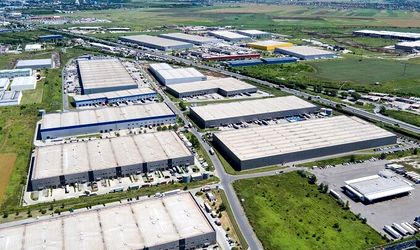 CTP, the leading premium industrial parks developer and long-term manager in Romania and CEE, strengthens in 2018 its position as the largest owner of storage and production spaces located near Bucharest.
The company will complete the construction of several warehouses and start new developments in its three logistic parks situated near the capital: CTPark Bucharest West, CTPark Bucharest and CTPark Bucharest North (formerly Chitila Logistic Park).
It is estimated that by the end of 2018, their total surface will reached approximately 680,000 sqm. CTP is planning an expansion of at least 300,000 sqm at the national level.
This year will be marked by a strong development process in the western part of Bucharest, where CTP owns three properties.
Overall, the company scheduled the delivery of around 236,000 sqm GLA near Bucharest, distributed as follows: in CTPark Bucharest: a 50,000 sqm GLA warehouse, delivery estimated for Q1-Q2 2018; in CTPark Bucharest West: 3 warehouses, total surface 175,000 sqm GLA, expected Q1-Q3 2018; in CTPark Bucharest North: first development phase started for around 11,000 sqm GLA, expected in Q4 2018.
Refurbishment works currently taking place in the logistics park in Chiajna (formerly Phoenix Logistics Chair) will also be finalised in 2018.
CTP's plans for 2018 include the completion of the developments started in its parks in Timisoara and Cluj-Napoca, as well as continuing the development of CTPark Pitesti.
Ana Dumitrache, co-country head of CTP Romania, said: "In 2018 we will continue to grow rapidly, at the same pace as last year, which was the best year for CTP since its entrance on the local market. We plan to focus in an equal manner on constructions and acquisitions of new properties. We will keep on developing intensively in the vicinity of Bucharest, because obviously this is the area with the highest demand for leasing industrial and logistics spaces throughout the country".