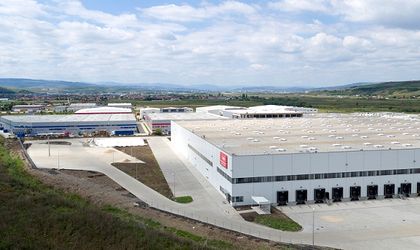 CTP, the leading premium industrial park developer and long-term manager in Romania and CEE, has started construction works for CTPark Cluj II, a new logistics park near Cluj-Napoca, in Floresti.
The property will have a total leasable area of 30,000 sqm and will be finalized in three phases. CTPark Cluj II is estimated to be completely delivered in December 2018. This is the second industrial and logistics park owned by CTP in Cluj County.
The three development phases of CTPark Cluj II will be completed as follows: the first phase will end in August 2018 and will consist of approximately 8,000 sqm GLA, which have already been preleased to a strategic client; the second phase will be finalized in October 2018, with 11,000 sqm GLA available for lease; the third phase will be completed in December 2018, with another 11,000 sqm GLA of logistics space, also available for future tenants.
Emanoil Dascalu, construction director of CTP Romania, said: "The western part of the country, and Cluj County in particular, is developing fast economically. The demand for industrial and logistics space is at one of the highest levels we have seen in recent years, so CTP is adapting in order to meet the needs of its existing and future tenants. CTPark Cluj II will include only A-class buildings  and the services provided here will be of the highest quality, as our tenants are accustomed to in all our parks."
The future space in CTPark Cluj II will be used for storage and production activities. The 22,000 sqm that are available for lease are in a single warehouse with a flexible structure that allows space to be divided into different sizes, depending on the customer's needs, from 1,500 sqm to 10,500 sqm.