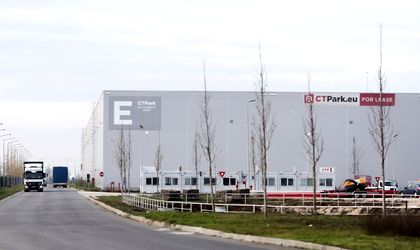 CTP, one of the most important industrial parks developers and long-term manager in Romania and Central and Eastern Europe, and NETWORK ONE DISTRIBUTION (NOD), one of the most important Romanian IT&C distribution market, expand their cooperation in CTPark Bucharest West, reaching around 44,000 sqm of logistics spaces leased in two buildings. A new agreement was concluded for an extension of approximately 14,000 sqm, situated in a new warehouse that will be finalized in Q4 2018. NOD already occupies over 30,000 sqm of logistics spaces in CTPark Bucharest West that were delivered in 2017.
The construction of the warehouse, where NOD will occupy 14,000 sqm of storage spaces, started in the beginning of 2018, with delivery planned in Q4 2018.
"NOD has been a part of CTPark Bucharest West since last year and we are pleased that CTP is able to support its growth," said Robert Pitt, COO of CTP.
NOD has been a tenant at CTPark Bucharest West since 2017, when the electro-IT products distributor leased a warehouse of more than 30,000 sqm.
"CTP is a solid partner, so it came natural for us to choose them in order to continue our rapid development. We are expanding fast, so we needed new storage space that enables us to maintain increased stock levels. Our activity has a seasonal peak that appears in the last trimester of the year, , so our new extension is programmed for delivery right on time in order to reduce our delivery times and increase flexibility," added Andrei Militaru, chief commercial officer, Network One Distribution.
This year will be marked by a strong development process in the western part of Bucharest, where CTP owns three logistic parks. Overall, the company has scheduled the delivery of approximately
236,000 sqm GLA near Bucharest, out of which approximately 175,000 sqm GLA will be located in CTPark Bucharest West.