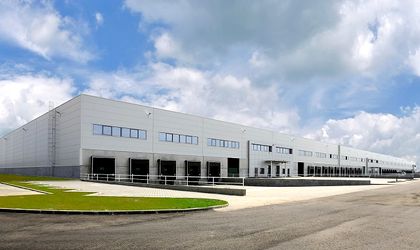 CTP, the industrial parks developer, entered the second half with buildings totalling 130,000 sqm of leasable area have been completed in CTPark Bucharest West, CTPark Timișoara II and CTPark Pitești.
CTP also concluded agreements for over 140,000 sqm of warehouse space and have 60,000 sqm pending. Approximately 400,000 sqm are currently in different phases of development across the country, half of which having delivery dates in the first quarter (Q1) of 2019.
In H1 2018, CTP continued its accelerated activity, and delivered 130,000 sqm comprised in units built at above market quality standards, as follows:
in CTPark Bucharest West two buildings were finalized, totalling over 130,000 sqm, for companies such as N.O.D. (Network One Distribution), DSV or Quehenberger;
in CTPark Timișoara II a 9,000 sqm warehouse was built;
in CTPark Pitești a 20,000 sqm building was delivered.
Most of the deals agreed by CTP are located in the parks near Bucharest, but important deals were also signed for properties near Sibiu, Timișoara, Deva, and Pitești. Circa 400,000 sqm are currently under construction, half of which to be completed in Q1 2019.
This area is comprised in 10 buildings located in five parks owned by CTP across the country:
in CTPark Bucharest West, two buildings with a total lettable area of over 200,000 sqm are currently under construction;
in CTPark Bucharest the construction works for three buildings that sum up approximately 107,000 sqm are in progress;
in CTPark Cluj II, a warehouse of circa 29,000 sqm is under construction;
in CTPark Sibiu, a warehouse of approximately 13.000 sqm is being developed;
in CTPark Pitesti a new 6.000 sqm building is currently under construction;
and in CTPark Timișoara a 33,000 sqm building is under construction.
"CTP is experiencing its best period since entering the local market. We managed to improve our 2017's performances and to speed up the company's growth. The increase of the consumption in Romania, due to the 6.9% economic growth from 2017, was at the basis of the high demand manifested in 2018 on the logistics an industrial segment. In the next period, the local economic effervescence will diminish reaching circa 4.0%, according to the European Commission's appraisals. This will not take a negative toll on our area of activity. Currently there are a lot of construction projects taking place around the capital, but also throughout the country, in cities like Timișoara, Cluj-Napoca, and Sibiu. In Bucharest the more sought after areas are the ones where infrastructure improvement works took place or where there is a great development potential such as the Ring Road-West, Ring Road-North, or A1 Motorway", stated Iuliana Bușcă, Commercial & Business Development Manager of CTP Romania.
Currently, the vacancy rate of the spaces ready to be leased across CTP's local portfolio is under 5 percent, and the demand continues to come mostly from logistics, IT, retail, e-commerce and FMCG companies.