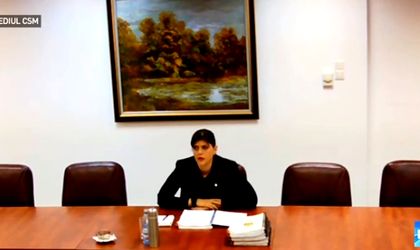 The Superior Council of Magistracy (CSM) decided on Tuesday to reject the request of the minister of justice, Tudorel Toader, to approve the dismissal of DNA head Laura Codruta Kovesi.
The statement was made by Codrut Olaru, CSM vice president.
This is an advisory opinion and the final decision will be made by president Klaus Iohannis.
During the public meeting, Kovesi said that the allegations in the evaluation report presented by Tudose are unreal and lack any kind of evidence. She added that under her mandate, the DNA had the best results in its history.
Toader said that Kovesi's speech could be "seducing" but he is not convinced by it. Kovesi told the minister that she was not present at the meeting to convince him.
"I am here to provide explanations and evidence to show that what you supported in the proposal is groundless and unreal," said Kovesi.
The head of Romania's anti-corruption agency said there was an issue with prosecuted individuals that constantly attack the DNA and the investigators.
"Yes, there is a festival of defendants who attack the judiciary in an unjustified manner and I will continue to speak about this thing," said Kovesi.
Last week, president Iohannis said that the Presidential Administration will analyze the assessment report on the DNA's activity in the past year. He suggested that he was satisfied with the results of the current leadership of the institution.
Toader has criticized Kovesi's management style, suggesting that the fight against corruption has to continue with respect to the rule of law.