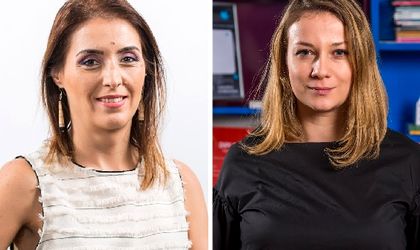 The Grolsch challenge gathered 13 experimentalists – the Grolsch Awake Experiment, enjoying a live Vita de Vie concert and being the main characters in an art moment created ad hoc. BR met with Cristina Gherman (left in picture), Global Brands director Ursus Breweries and Cristina Schitco, Group Account director Kubis Interactive and talked more about the project that brought them in 2017 one Grand FIBRA, two Gold FIBRA, one Silver FIBRA and Gold at Internetic's Digital Brand Experience.
By Romanita Oprea
Tell us about the context and the business strategy in the Grolsch association with Awake?
Cristina Gherman: The partnership Grolsch – Awake Festival came naturally and at the right timing. Grolsch is the brand from Super Premium portfolio of Ursus Breweries that encourages open-minded people to think creatively for a bit better and more interesting life. On the other hand, Awake Festival came with the proposition to be the first arts & culture event, not only music. So, it was clear from the beginning that it is a natural fit for this association, and both parties could benefit: Grolsch to promote what means creativity and showcase it in the festival context and for Awake to establish itself as a different and unique event.
As part of the same project, Grolsch has come up with a new challenge for our experimentalists.  In a world based on efficiency, through this challenge, Grolsch tried to translate visually the emotions we feel when we are listening music. The result was spectacular and full of intensity – the Grolsch Awake Experiment.
The stages of the experiment were simple. The participants to this new Grolsch challenge did not know what was going to happen, and for half an hour they witnessed a live music concert of Vita de Vie, tied to the eyes and only able to enjoy the music. During this time, participants 'cerebral activity was monitored by neuro-headsets that recorded neuronal activity and transformed participants' emotions into small mathematical equations. The mathematical equations provided by the neuro-headsets gave the Aural Eye graphics studio the opportunity to work with this information and turn it into visual projection. In other words, the participants' thoughts have been translated into visual art, full of intensity and colorful games.
In a world where we are increasingly connected to technology, we are becoming more and more disconnected from what we are each of us and forget to look at the things that really matter. The Grolsch challenge was to rediscover emotions and try to bring people closer to their thoughts and emotions. Music has the power to awaken us and to make us more attentive to our needs. Unconventional, creativity and the idea of ​​experiencing new things are the hallmarks of the Grolsch brand, and this musical experiment has shown us that if we keep our minds open and we remain curious, we can go out of routine and experience new perspectives of the world around us.
How did the idea of the project come up and what is the insight behind it?
Cristina Schitco: "In a world in which we are increasingly connected to technology, we have become increasingly disconnected to ourselves" – this was the universal truth we started from.
We live in a multitasking world, where mobile phones and laptops have become a natural and necessary extension of people. An adult spends on average 4 hours and 5 minutes a day using different digital devices – that is 5 days in one month. That's a fact, it's neither good nor bad, and our purpose was to offer people a simple reminder and an invitation to reconnect with themselves.
In the Awake Experiment provoked by Grolsch, we used technology to rediscover a simple fact: technology disconnects you from yourself, while music acts as a reconnector.  So, we started from a mathematical equation and we ended with poetry. 
How was it received by the client?
Cristina Gherman: I have to recognize that the agency proposal for the Awake Experiment was received with a lot of enthusiasm and approved from the first meeting. This is because both teams felt we have a very strong project, and the creative idea "Awake your curiosity" stirred all the members in the team with positive energy to do great things. Grolsch is a brand that encourages unique experiences, all related to music, arts and doing things in a creative way. Together with the agency Kubis, we worked on developing a lot of positive experiences, so we realized from the beginning that this is a big challenge, as well as an outstanding reward.
How much time did it take to implement it? What were the challenges in this process?  
Cristina Schitco.: From the moment we presented the idea of the Awake Experiment to the client until the experiment was launched, we worked for 5 intense months. It was an unusual project, involving technologies that are not so common in Romania. It was the kind of project that looked very good on paper, but was extremely difficult to implement and to grasp.
A good chunk of this time was dedicated to research and testing: although the creative tension we started from remained unchanged throughout development, the outcome was strongly influenced by the technical solution we decided on in the end. A great part of this project was made possible by the excellent collaboration with Aural Eye and their dedication – they provided us with both the neuro-headsets and the visual mapping.
To sum up, this was a project from which we all had to learn on the go, as things progressed – the creative team, client service, suppliers, but also the Grolsch team, who trusted us 100 percent all along the way.
How big was the team behind the project? What was each person's role and why Vita de Vie?
Cristina Schitco.: In the end, we are talking about a team of over 50 people – a large team, which entails serious coordination efforts. What really mattered was that each of us had the same goal in mind: making the project happen.
A valuable input came from Millo Simulov, the director we brought in for this project, who orchestrated a team of over 5 camera men and 10 video cameras, with only 45 minutes to capture everything on video. 45 minutes. That's how long the shooting we worked on for 5 months took. We knew the video would go on to reach hundreds of thousands of people. We were not allowed to make any mistakes, as we could not repeat the experience: it all had to be flawless from the first go.
And then there's the band. Why Vita de Vie? It's are a band with many years of experience behind them, with many hits and songs that have left their mark on our musical culture, in one way or another. Adi Despot was very open and involved in this project from the very beginning, which came also as a confirmation of the fact that we were on to something and that this project needed to happen.
The idea of reconnecting to oneself through technology is very interesting and also very versatile. Will you continue to use it in other executions/campaigns/ implementations?
Cristina Gherman: Indeed, the insight related to the lack of connection with ourselves as we are too absorbed into technology is very relevant nowadays and will remain true also in the future. For our team, it is important that every project resonates well with Grolsch target and Awake Experiment overpassed the highest expectations. The proof relies in the outstanding recognition that we received from the colleagues in the marcomm industry, also internationally, from the most prestigious publications (example: http://www.mostcontagious.com/ ).
So far, the Experiment reached 3 million impressions, 1 million people reached and 250,000 video views and was awarded by the most prestigious creative festivals with international juries – FIBRA AWARDS – 5 prizes and INTERNETICS – Gold for digital brand experience. That demonstrated once again that if you have a great idea with relevant insight this can travel across the borders – so how to stay connected to yourself in a 'technologized' world is important everywhere. For next executions, our aim is to continue with simple insights, well routed in what the consumers live currently, with a brilliant execution that can be amplified with the power of digital/ social media. The Grolsch target is eager to experiment and be inspired by creative things.
How do you reconnect to yourselves?  
Cristina Gherman: Personally, doing the Awake Experiment helped me to reconnect to myself, made me think about how we live our lives…building more connections with applications, virtual games, online conversations than smiling to a person next to us. I am fully convinced that we do need technology and mobile connections, but let's make them work in favor of our life, to be fulfilling and progressive. I would say to use technology to make life-time memories than regrets of what you didn't do.
Cristina Schitco: Although it might seem a bit uncommon, as reconnecting to oneself is often a solitary endeavor, I often choose to do it through people. I like to surround myself with people who share my values and inspire me.
More and more brands of beer are positioning themselves as technology partners and its active users. How is Grolsch positioning itself differently in this context?
Cristina Gherman: It is normal that every brand today benefits from technology, as it is all around us. Nobody can see life today without a device, always turned on and connected. So rather than thinking if it is good or bad, we should develop proper strategies on how each brand can capitalize on this trend. In this context, Grolsch stayed true to what it is – a Dutch brand with 400 years of history that valued good tradition and embraces what is coming in the future. This is our differentiator and unique proposition – that we keep the proper balance, respecting what's good from the past, with the opportunities of the future.
Usually technology is seen as a distracting factor from oneself. How do you believe you can change this perception? Do you want to do it?
Cristina Gherman: Grolsch Awake Experiment had the objective to raise the awareness about how great the music is and the positive effect can bring to our lives. Using the technology in a creative way, we were able to awake the curiosity in the people and make them realize to stay true to their values. So we rather think about the technology as our ally rather than a perturbing factor. Don't give up the technology, but take a break and connect to the things that you enjoy, listening to music, or something that stirs your emotions…because now you know these feelings make your brain to draw exceptionally.
How much is strategy, creation and how much is implementation in such as a project?
Cristina Schitco: That isn't necessarily something you can measure. It's all equally important and co-dependent, one can't and shouldn't function without the other. Of course, it's very important to have a good start, and the starting point here was the strategy. But if the strategy is good and the creative is not, then out goes the implementation. At the end, each piece is important and what really matters is for everybody involved to find a purpose for their work and to believe in the idea that they want to bring in front of an audience.