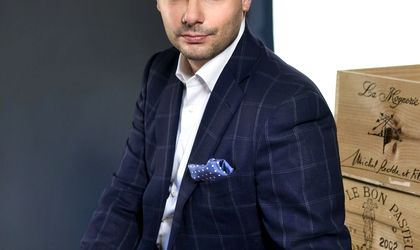 In 2004, after spotting a gap in the Romanian market, Le Manoir Group owners introduced the local crowd to French refined gastronomy. Through the newly-opened Romanian gastro wine bar La Vinuri and the Eastern European delicacies store Mariza, set to open in June, over a decade later the group plans to do the same for Romanian food, co-founder Cristian Preotu told BR.
What started as a small business opened by Preotu and his wife Maria, with the later addition of his brother-in-law Calin, today it still remains a family business which employs around 80 people. In 2016 Le Manoir Group posted a turnover of EUR 5 million and is expecting a 15 percent growth in 2017. According to Preotu, Comtesse du Barry shops and corporate gifts are performing the best, representing 50 percent of the group's turnover. Next are the restaurants, and the shop Le Petit Bateau, run by Maria Preotu. "It is likely that in the coming years, the ranking will change, as businesses progress."
By comparison, online sales are insignificant, in terms of both volume and value. Most customers who buy via the online shop on the group's website come from outside of Bucharest. "We will continue to rely on our offline shops. Although I am aware of the importance of e-commerce, I believe selling online is a different trade. Our products must be seen, touched and tasted," added Preotu, hinting that one cannot smile at a virtual customer.
With its two restaurants, Le Bistrot Francais and Sushi Room, and French chocolaterie Michel Cluziel, the owners of Le Manoir Group have already contributed to the cultural footprint of the area surrounding Bucharest's Atheneum. "French Revolution and Moritz are here too, so it is starting to look a lot like Place de la Madeleine in Paris, except that instead of the church, we have the Romanian Atheneum," Preotu explained.
La Vinuri, opened on Episcopiei Street after a EUR 50,000 investment, offers more than 250 Romanian wines and serves traditional food platters. Romanian traditional food will also be the highlight of the selection of traditional Eastern European delicacies to be sold through Mariza, which will also feature foods from Serbia, Russia, Ukraine and more. The first store of a potential chain, which also required an EUR 50,000 investment, will be located on the same street.
Introducing the 'Romanian chic' concept
With Mariza, we propose the 'Romanian chic' concept, which revolves around premium quality traditional products that get sold at a price that stimulates producers to improve, Preotu explained. Romanian foods to be sold include Mangalita ham, morels, cheeses, Plescoi sausages, fruit syrups, jams and more. "We are looking for roe, and we are in touch with producers that will farm sturgeons," he said, adding that Romanian farmers grow very good quality products. According to Preotu, who is the sole curator of all products that sell in the group's restaurants and shops, the quality of a product should be reflected in its price. Superior quality produce needs special deposit and delivery conditions and producers are willing to do this if they get a good price. "What they need is support, and also to see that quality is rewarded." Moreover, according to Preotu, the market is mature enough to welcome this approach and pay a premium price for good quality Romanian products.
Romanian wines are no exception. In fact, via another project currently in an advanced phase, the entrepreneur is planning to use the experience that gave Le Manoir Group a 50 percent market share of French wine imports, to make Romanian wines popular in France. At the moment, negotiations have entered the final stretch with around 20 restaurants across the country that will be matched with wines from all Romanian regions, such as Transylvania, Recas, Oltenia, Dealu Mare and more.