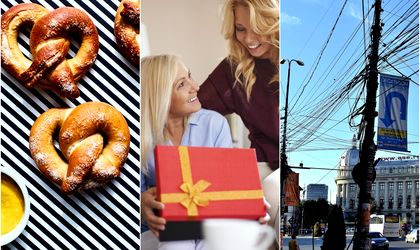 In our fifth monthly column reflecting on the Romanian experience from the perspective of a native whose life has primarily been spent abroad, BR's resident repat will temporarily fill the expat's shoes by musing on quirks and interesting experiences of life back home.
By Eugenia Pupeza
Covrigi
When I first moved back to Romania three plus years ago, there were a few food items that I could not get enough of. Naturally, they were my childhood favorites and difficult to come by when I lived elsewhere. One of these is salata de vinete (eggplant salad), made with fresh grilled eggplants and, in my case, plenty of onions (I have since learned that there are different varieties and each household swears by the kind they were brought up with). The second, and clearly more fattening item(s), are the pretzels and pastries you can find at any corner of any street, anywhere. These are not ordinary pretzels – they have nothing in common with the sourdough version found in the States and Germany – but there is something about the deliciously twisted dough, some parts crunchy, some parts soft and chewy and topped with either sunflower seeds, sesame seeds or, my favorite, poppy seeds and salt. Heaven for RON 1.
Other tasty treats you can find are the salty cheese pastries (I'm not a fan of the sweet cheese versions). From merdenele to pateuri to placinta, these are the most amazing snacks or meal substitutes when you need a quick bite for lunch and, when I touched back down in Romania, all I could eat for a week. No desperate insisting from my cousin that I could find these anywhere, or warning from my aunt that I would get fat, could stop me! The only negative aspect as far as I'm concerned is that I have learned they are primarily a breakfast food and daytime snack so, while you can find them at 6am for the early-rising workers, you will not be able to get them anywhere after 5pm.
Home visits
Romanians are very hospitable. If you've ever been invited to somebody's house, you've probably noticed. When I was little, my mother embedded in me that whenever you go over to somebody's house, you always take something. It doesn't matter if you're going for coffee or a meal, you can always bring chocolate, flowers, something for the kids (if there are any)… there must always be something! Though your gifts are always initially declined ("you shouldn't have!"), they are quite expected. Visitors are treated like family; the best china, silverware, serving dishes, tablecloth and food is brought out. No expense is spared. Even though sometimes you'd like the visit to be more casual, it never is. Though many countries claim the same, in my experience, nowhere are home visits quite so extravagant and over the top as here. Be prepared to eat everything on your plate (not doing so is very insulting to the cook of the house). The refusal mechanism works both ways: you can say "no thank you, I'm full" but despite the fact that you actually mean it, it is an expected phrase and will only be followed by insistence that you eat more. So, by the end, you feel so full and drunk (if the tuica or palinca is brought out) that you will barely make it home, promising yourself that you will never eat so much again…till the next visit!
Electrical power lines
Whether you are new to Romania or have spent some time here, there's a good chance that you have noticed this most characteristic aspect of the city's landscape: power lines wrapped around a pole or off an apartment building and hanging down at eye level, all in a big wadded mess, oftentimes intertwined with a tree branch, looking like a public hazard just waiting to happen. I have been told the ends aren't live, but don't care to test out this theory and, to my surprise, nothing ever happens, ever. Or at least, I have never heard of a fire due to the logistics of these hanging power lines. In the beginning, I tried to ask people about them, but to my shock and horror at the time, the usual response was "well, where else would you want them to be?" So now, even for me, they have become an expected element of the city's backdrop, just one of those quirks you don't question that "just is", but one I would probably miss should they somehow disappear. Especially the one in front of my apartment building that hangs like a rope from tree to tree, threatening to behead me twice a day if I don't duck down in time.