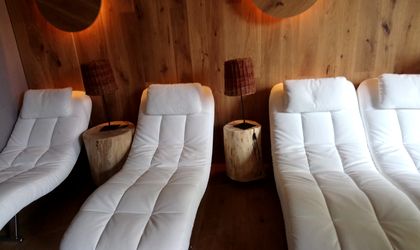 Balneary resorts have always been searched for their therapeutic effects. Nowadays they are still popular and Romania is one of the countries known for its range of balneary resorts, especially in Transylvania.
Covasna is a county in Transylvania and is known as "the resort of the 1000 health springs," due to its natural mineral waters with a variety of  physical-chemical compositions, due to its negative ions and picturesque landscape. The carbo-gaseous, bicarbonated, sodic, clorurated, feruginous mineral waters and the therapeutic mofette (emanations of natural gases, mainly carbon dioxide) are the results of post-volcanic acts. They make Covasna a unique resort focused on the prevention and treatment of cardiovascular affections.
According to the Association for Tourism Development in Covasna county, there are 100,000 tourists annually in Covasna county, out of which 50,000 in Covasna city and in the first half of 2017 there was an increase by 15 percent in the number of tourists. More than 65 percent of the tourists come from social tourism, the people with healthcare affections that come for balneary treatments, some with recommendations from the Healthcare Ministry for treatments in balneary resorts. Last year 90 percent of the tourists were Romanians and out of the rest, the most numerous were English.
Therefore, tourism contributes the most to the county's budget, on which is built the city's development plan, followed by wood industry and afterwards, by agriculture.
From balneary resort to SPA& wellness retreats
However, in the last years, the county has developed in more than a balneary resort, to SPA& wellness retreats, with picturesque landscape and wild parks, as well as to exploitation of handcrafts.
View from Saciova Hills                    
    Natural park Saciova
Saciova Hills, located in Saciova, is a mansion on a hill, a perfect landscape for noble retreat in a wild place, surrounded by a natural park with deers and approximately 300 wild boars. The mansion worth EUR 450,000 was built in 2009, out of which 50 percent European funds, was opened 3 years ago only for closed circuit and starting this year it has been opened for all tourists. The mansion offers special activities, such as carriage ride, a photo tour in the park and fire camp. The rooms are inspired from nature and are especially designed for relax, while the personal chef delights the tourists with special cuisine. The price for one night accommodation is EUR 150, with breakfast included.
Another place of retreat is Clermont Hotel. Situated in the eastern part of Covasna, approximately 50 m from the main road, the hotel has a beautiful sight of the forested mountains bordering it on three sides. It is the ideal place for several customer categories: those looking for the great benefits of mineral waters and moffette gas, mountain-lovers passionate about hiking, as well as those who wish to get away from the city's monotony at week-ends. To get there, you need to cross most of the resort, but without any traffic jam, as the town in small and quiet. The 4-star standard hotel offers complete accommodation services (including the benefits of an indoor swimming-pool) and a range of additional services, balneary treatment, anti-stress cures, SPA& relaxation services, leisure services, as well as the tourist attractions close to the hotel. Moreover, Clermont Hotel offers the possibility to organize events and teambuilding programs.
View from Clermont Hotel
"Covasna resort was known, but 10 years ago there was no hotel, not even 3-star hotels and it was very hard to find employees. It was founded 10 years ago by 2 shareholders, mainly from the amounts obtained from the sale of the former factory Ardealul to a foreign company, worth EUR 7.5 million. During these years, the hotel developed, but the inhabitants left the city. However, we have an accommodation rate over 70 percent, mostly during treatment periods. Half of our business is represented by corporate segment, mainly from Bucharest. Most of the tourists (95 percent) are Romanians, and out of the foreign tourists the majority are Israeli, but we want to bring more foreign tourists. We also aim to invest more in leisure, family segment, to bring more activities for children," says Ovidiu Olariu, marketing manager of Clermont Hotel.
The local counselors of Covasna also aim to develop the area and bring more tourists, Romanians, as well as foreigners. They plan to develop the ski path of Covasna, which has been opened for a few years, and already accessed EUR 10,000 European funds for ski snow canons. They also plan to develop a SPA center near the ski path to attract tourists.
A popular hotel for retreat is Hotel Balvanyos, which was acquired from the state in 2009 and in 2010 it was modernized.  Balvanyos area is situated at 960m altitude, surrounded by the mountains and forests of volcanic lake Saint Ana. The post-volcanic activity in the area is very intense and this is why the area is rich in sulf hydroxid with therapeutic effects. Besides the balneary treatments, Balvanyos Resort, developed in a contemporary style, offers SPA& wellness services. The resort has a surface of 9,000 sqm, with 12 ha forest included; the hotel covers 5,000 sqm and the grand arena SPA comprises 2,000 sqm. The accommodation is EUR 90/ night for a standard room, with SPA access and breakfast included, while a superior room reached EUR 100/night. In 2016 the occupancy rate was 50 percent due to the SPA which was developed and for this year the expectations are over 90 percent.  The customers are from both corporate segment and leisure segment.
Hancrafters pass the traditions from one generation to another
Covasna is also the place to still meet handcrafters and people who still keep the traditions of the old generations and make real masterpieces, with a lot of patience. They promote in this manner the region where they live in, that they are proud of. Erzsebet Bartok darns at weaver mats and traditional costumes, traditional bags, since she was young.  Hagyomanyos Mézeskalács is a specialist in traditional ginger bread from Targu Secuiesc, making and decorating it together with her son.
Ginger bread made by Erzsebet Bartok 
Nicu Manea from Covasna produces ewe-cheese with several Romanian symbols on it, including the head of Decebal, with the help of wooden matrices made by Gheorghe Zmanu, a known wood carver in the region. Smanu can transform any woodblock in a masterpiece.
   Ewe-cheese with several Romanian symbols              
All these handcrafters inspire people around them and teach their children and anyone interested in the skills necessary for the creation of the masterpieces. And with them giving demonstrations, with the balneary treatments and the retreat places offered by the region, Covasna is set to attract more and more tourists in the following years.