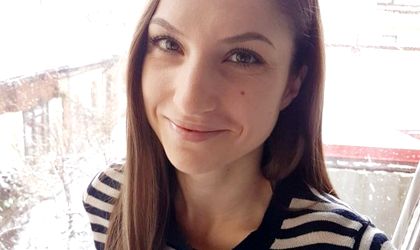 FCB Bucharest consolidates its strategy department, a moment marked by Corina Anghel taking the coordination role and by the enlargement of the team starting the beginning of this year. With 10 years of experience in the industry, out of which 9 dedicated exclusively to the strategic planning, Anghel was part of the winning teams of several Effie awards, proving that she put the basis of a series of successful campaign.
By Romanita Oprea
She studied communications at National School of Political and Administrative Studies (SNSPA) and her first year of her career was dedicated to the marketing research. Later on, she discovered the passion for strategy, working until 2011 as strategist and then coordinator of the strategy department in the agency Propaganda. Anghel worked for brands in diverse categories, both with FMCG and retailers' profile, as well as media, telecommunication, banking and social responsibility.
In FCB Bucharest's strategy department work also Oana Nedelea and Adelina Maritiu, strategic planners with different professionals roads, but united by the same passion for strategy.
"I believe the diversity of the strategy team is good. Nedelea started in digital, Maritiu was first a copywriter, then a strategist in the agency, then she passed in the marketing department of an NGO in the education field and I did research prior to strategy. This is offering different perspectives and makes the approach more complex and more interesting," said Anghel.
Nedelea studied communications and brand management at SNSPA and has eight years of experience in advertising, out of which two spent at FCB. Her first 4 years of career were dedicated to digital and afterwards she dedicated herself to brand communication. During the years she worked for diverse brands among which Skittles, Absolut Vodka, Opel, Bancpost, Avon, Coca-Cola, KFC, MasterCard.
Maritiu, the newest FCB strategy team representative, studied at the University of Bucharest, at the Journalism and Communications Faculty, then followed the creative writing online courses of Stanford Continuing Studies. In 5 years of her career in advertising, she worked in copywriting, marketing and strategy, for brands with diverse profiles: auto, retail, FMCG, education, home & deco, finance, pharma, horeca, e-commerce, sports and entertainment.