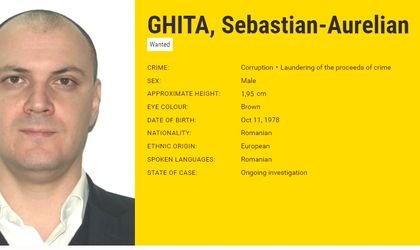 Controversial politician and businessman Sebastian Ghita, who was been missing since the end of December 2016, has been named on Europe's most wanted fugitives list of Europol.
Ghita has emerged earlier this month in a series of video recordings in which he claimed that he went on vacation with a high-ranking official of the domestic intelligence service SRI. Following his statements, the lieutenant-general Florian Coldea retired from his role of deputy prime of SRI director, Eduard Hellvig, and was placed in reserve.
Meanwhile, Ghita is investigated in several corruption files and judges decided that he can be placed in preventive arrest if found.
"1. Between summer 2013 and spring 2014, in his capacity as a member of the Romanian Parliament he granted support to the general prosecutor of the Prosecutor's Office within Ploiesti Appeal Court. The fugitive's deed aimed at obtaining leader or technical positions within central public institutions for the general prosecutor, with a view to latter's performing acts against their professional duties, namely the provision of information of a criminal case not intended for the public. The deed was committed at the time. 2. On the 28th of March 2011, to hide the origin of the amount of 610.202 lei, resulted from blackmail offence, the wanted person has concluded, with his brother-in-law serving as intermediary, a service contract to certify commercial relations between the two companies. These relationships were never real," according to Europol's description of Ghita.
Ovidiu Posirca