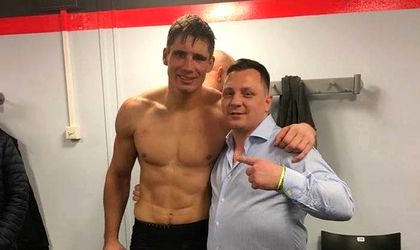 Combining IoT and wearables technologies, StrAIke is a tool designed to allow contact sports practitioners to train wherever they are. Created by former professional fighter Alex Baciu and his Harvard Graduate partner Manuel Costescu, StrAIke is one of the five start-ups included in the pre-accelerator program Tech Leaders Lab, a project by Young Leaders Club and Golin. We spoke to Alex Baciu about the StrAIke app, a virtual coach developed to help those who train remote in contact sports which was designed using AI technologies.
The app uses punch tracking sensors with an advanced algorithm to automatically track each punch thrown, calculate its speed and recognize the punch type and combination so that athletes and coaches can visualize their data over time, set goals and monitor progress. According to Baciu, the app includes training routines developed by some of the most accomplished athletes and coaches in the world.
What market need does StrAIke fill? How did the idea to set up a startup to address it come about?
As the market for remote fitness is picking up, StrAIke is the artificial intelligence driven, virtual coach for fighting sports. I've been deeply involved all my life in professional contact sports, therefore always looking for an edge when it comes to effective training.
StrAIke creates a strong synergy between technology and the knowhow of some of the most accomplished athletes and coaches in contact sports today, and brings it in the hands of every amateur or professional interested in training effectively whenever and wherever he or she wants.
What is the background of the founder (s)? And that of your team members?
Myself, I was a professional fighter for almost a decade and since retiring in 2007 I have been managing the career of other pro fighters, including several world champions, as well as promoting events in Europe and China.
Therefore, I was and still am involved in professional fighting sports from every possible angle: as a fighter, manager, coach and promoter. Besides my sports ventures, I've had several other projects in various areas, from finance to internet marketing.
The other co-founder, Manuel Costescu, is a Harvard Graduate, with a lot of experience in senior positions in companies like McKinsey NY and JP Morgan London, so he brings the business acumen necessary with structuring and scaling up our venture.
What market(s) does Straike target? 
StrAIke is addressing a sizable and growing global community of fighting sports practitioners, who are training either to stay in shape, learn a new skill or compete professionally.
Who are your competitors?
This market is building up as we speak, with a few early stage startups delivering tracking wearables for fighting sports.The most relevant of them is Hykso, which has recently graduated from the famous seed accelerator, Y Combinator.
What are your biggest challenges and who gave you most support?
Like every venture, the biggest challenge is to put up the perfect team, define and refine the concept and secure resources in order to be able to execute our plan.
The very positive feedback we're receiving from investors, sports insiders as well as organisations like Young Leaders Club and Golin Romania, which provided us with the opportunity to present StrAIke at their event Tech Leaders Lab was a big support.
In what stage of development is your start-up right now?
We are now beginning the beta testing of our prototype with Super Pro Team, one of the biggest and most relevant kickboxing franchisees worldwide, in order to collect feedback from a large base of amateurs practitioners, as well as some of the most accomplished professionals in contact sports, today.
What are your plans for this year and for the future? 
We are working hard to perfect our prototype and concept and at the same time looking to raise a seed round of USD 500,000, in order to expand our team, develop various training routines in our app and bring our product to the market.