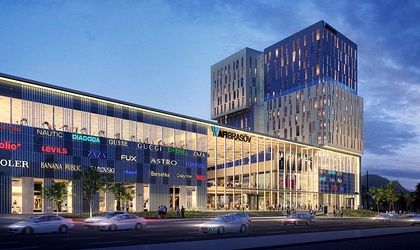 AFI Romania announced that the leasing campaign in AFI Brasov has advanced and has already assigned 80 percent of the spaces. AFI has recently obtained the construction permit for the new project and will be the third shopping center developed by AFI Romania.
The shopping center will offer a total gross leasable area of 45,000 sqm that will be combined with additional 2 "Class A" office towers totalling 25,000 sqm GLA. The overall investment for the mall and first office building is estimated to be over EUR 120 million.
The entire project is developed to be certified as "green" building.
Construction of the new project has started at the beginning of this year and according to the company the opening date is estimated to be either at the end of 2018 or during the first quarter of 2019, depending on the pace of works.
"AFI Brasov represents a milestone in the company's development strategy. We are convinced that once finalized, the project will become the new city center of Brasov and offering a great shopping experience," says David Hay, CEO AFI Europe Romania.
"The project will add about 2,000 new jobs to the city's economy in addition to the new Class A office buildings that will be attractive to host multinational IT&C companies", added Hay.