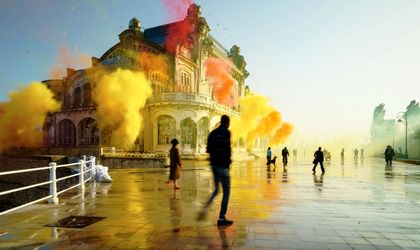 Sony launched a new European advertising campaign that presents the quality of the images offered by the new range of Sony BRAVIA 4K HDR TVs. The campaign that will roll at European level showcases the Constanta casino in a spectacular perspective, benefiting of the contribution of the American director Andre Stinger and the soundtrack assured by the singer Tom Odell.
Filmed and produced at 4K quality by the American director Andre Stringer and the DDB Berlin team, the commercial brings back to life the Constanta casino that has been ignored by authorities, by using 4,000 balloons and over 1.500 kg of glitter, in order to create a unique visual frame.
The campaign's message "More Brilliance. More Beauty" will be transmitted via several channels: cinema, VOD, online, outdoor and stores.
The extra visual elements were filmed by the photographer specialized in high speed photography – Fabian Oefner – that has placed a noise sensor on the camera's diaphragm, so that it would reseal each time a balloon blew, helping him get amazing and incredibly detailed images.
The music remains one of the most important aspects. Sony worked with Tom Odell in order to create a new version of Cyndi Lauper's classic "True Colors", renamed "True Colours".
The campaign will be launched in UK, Ireland and Germany at the beginning of October.
Casino Constanta opened its doors in 1910 and with its grand size, seaside location and marine-themed decor, was soon attracting wealthy travelers. Originally commissioned by King Carol, it became a symbol of the coastal city. But its glory days were not to last. During the Second World War, the building was used as a hospital, then under the post-war communist regime, it operated as a restaurant. By 1990, the place was too expensive to maintain and the building has been closed ever since, deteriorating day by day.
Romanita Oprea