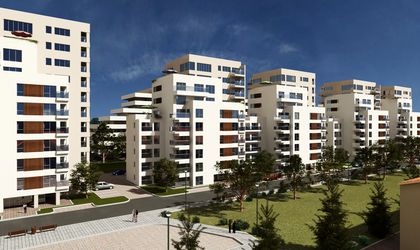 Constanta became in 2017 the third largest regional residential market in Romania, with more than 3,000 dwellings delivered each year, thus joining Cluj Napoca (5,403 dwellings delivered), the largest residential market excluding Bucharest – Ilfov and Timisoara (3,484 dwellings delivered), according to a report drawn up by Coldwell Banker Romania real estate consultants, based on information from the INS.
The following positions in the ranking of the largest local residential markets in Romania are occupied by Sibiu and Iasi, both with approximately 2,500 dwelling units delivered annually, Brasov, with almost 1,700, and Oradea, which premiered last year among the cities in which over 1,000 homes are completed annually, including neighboring localities.
As in previous years, the largest share of homes completed in 2017 in the largest residential markets in Romania, including the Bucharest – Ilfov region, were located in the localities near the big cities – about 54 percent.
"The towns and cities near big regional cities continue to attract the largest share of new home completion because they offer land for construction in reasonable price and low bureaucracy in building permits, compared to large cities where local authorities are less friendly and landowners often have unrealistic expectations about the price of land proposed for sale. Unrealistic prices are a consequence of the fact that in cities such as Timisoara, Iasi, Cluj – Napoca, 80 percent -20 percent is applied when it comes to concentrating good land in the portfolios of a small group of landlords. In the situation where the demand for the central or semi-central land will meet, we will see an increase in the middle market segment and in the big cities in Romania and a qualitative evolution of the concepts underlying the projects from the outskirts of the big cities, explains Bogdan Voica, CEO of Coldwell Banker Romania.
The largest suburbs
The largest suburbs by the number of dwellings delivered in 2017 were Bragadiru (Bucharest), with more dwellings completed compared to Brasov, Floresti (Cluj-Napoca), a locality where in the last 11 years almost 18,000 dwellings were completed, more than in any of the major cities except Bucharest, Navodari (Constanta), Dumbravita (Timisoara) and Cisnadie (Sibiu), which passed the 1,000 deliveries threshold for the first time in 2017.
In Popesti Leordeni (Bucharest), for the first time in the past six years, less than 1,000 dwellings were delivered due to the impoundment of available plots of land, while Giroc (Timisoara) and Selimbar (Sibiu) have reached the threshold of 1,000 finalizations.
Coldwell Banker Romania is one of the largest real estate consulting companies in Romania and the company with the most extensive activity on the residential segment, being the project manager and exclusive agent of over 15 residential projects, over 10,000 planned homes.